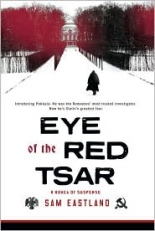 I guess I'm the only one. Sam Eastland's EYE OF THE RED TSAR has been getting great reviews, but it just left me cold. The novel centers on Inspector Pekkala, who, back in the time of the Tsar, was the head investigator — a man everyone had to answer to, including the Russian royal family.
But he's been imprisoned in Siberia. It's been 10 years since the overthrow and Pekkala has been called back for a really cold case, to find out what happened to the Tsar. The person offering this job? Joseph Stalin. So Pekkala doesn't really have much of a choice: either solve the case or be sent back to Siberia.
This is historical fiction, with a few minor errors that will be a thorn in the side only for history majors, like this reviewer. The story slowly reveals Pekkala's backstory through flashbacks that follow his rise to power and his downfall. For me, the more interesting parts were the backstory, since the case itself does not follow what most historians agree upon.
RED TSAR is a fine historical jaunt, but I struggled with it. I won't even go into how it all leads into what must be the setup for the sequel, but it goes against everything that comes before it. —Bruce Grossman