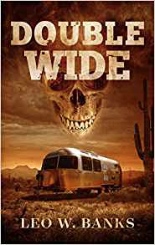 Journalist and Old West historian Leo W. Banks brings his knowledge of the Arizona desert, baseball, and even his expertise about cacti, to DOUBLE WIDE, his murder mystery debut novel. It's a meandering but mostly entertaining first fiction effort that shows enough promise to make Banks a crime fiction author to watch.
Prospero Stark was once a pitching legend in the Minor Leagues, known as "The Phenom" and nicknamed Whip Stark. But a drug charge landed him in a Mexican jail and brought his promising professional sports career to an abrupt halt. Now he lives in peaceful semi-seclusion in a small trailer encampment in the Arizona desert with a collection of colorful outcasts who call him The Mayor.
One eveninng Stark's routine is disrupted when he finds a dismembered human hand delivered to the door of his refurbished Airstream trailer. Stark immediately recognizes it as belonging to his former catcher and close friend. His friend had a drug problem, and Stark fears his friend got on the wrong side of the violent drug dealers who dominate the deserted towns not far from his encampment. But Stark won't rest before he finds who killed his friend and the reason behind the murder.
With the help of his trailer camp friends, and joined by the beautiful but hard-living TV journalist, Roxanne Santa Cruse, Stark traces the last days of his friend's life and the recent activities of a drug gang. Along the way Stark stumbles upon an unexpected conspiracy that could make the drug dealers even richer and possibly alter the course of Stark's former profession. But his discovery could also get him killed.
Banks amazingly pulls all the diverse and seemingly unrelated plot elements together. This is due mostly to Stark's laconic and softly sarcastic first-person narration. But uniting all these elements takes time, and Banks's plot suffers from several occasions where the plot feels lost in the midst of the necessary exposition.
Fortunately Banks balances this defect with his alluring, offbeat cast of characters. Indeed many of the most enjoyable moments are when Stark interacts with the other residents of his trailer camp. They all have backstories that resulted in their winding up in the desert, but Banks relays these effectively in a sentence or two. Their peaceful existence is sharply contrasted with the violent, ever-threatening presence of the drug smugglers who Stark nonetheless accepts with the same ease as his other companions.
Then there is Stark's father, a former college literature professor whose mid-life crisis resulted in a prison sentence. The chapters where Stark visits his father add little to the plot (except for an explanation of Stark's unusual first name) but are unforgettable thanks to Banks's insight into Stark and the emotions Stark experiences in the presence of his father.
Sadly Banks is far less effective with Roxanne Santa Cruz. Her tough-as-nails dialogue and other features come across more cartoonish than convincing. Its only when she calls in her experiences as a television reporter that she proves her worth to both Stark and the novel as well.
Another highlight is the Arizona desert setting, with its endless sunsets, abrupt rainstorms, majestic mountain terrains, and boundless stretches of sand and silence. Banks's descriptions are wonderfully evocative, and frequently contrasted with the ugliness of the Arizona cities just outside of the desert.
The setting and characters, along with the inventive plot, make DOUBLE WIDE well worth your time.
Will we see more of Whip Stark? The open-ended conclusion would suggest so. But let's at least hope we see more fiction from Leo W. Banks as he joins the ranks of other new crime fiction authors. —Alan Cranis