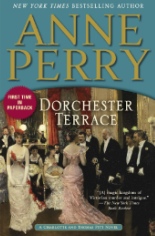 I really enjoyed Anne Perry's TREASON AT LISSON GROVE, the 26th novel in the Charlotte and Thomas Pitt series that was published last year, but her 27th, DORCHESTER TERRACE, was peculiarly unsatisfying with a needlessly complicated double plot. Be that as it may, Perry is still an interesting writer, deftly intertwining her historical details with attractive characters and usually, a riveting storyline.
In this adventure, now in paperback, Thomas Pitt has now become head of Special Branch, a position he is not sure he deserves. And others in the government aren't sure as well, as they go to great pains to belittle him.
A true test of his competence arrives in the form of Austrian Duke Alois, a minor noble who is not politically connected. But the evidence that Pitt sees indicates the Duke will be assassinated on British soil during his upcoming visit. This would cause serious disruption in the European theater, and could easily lead to war. Frustratingly, Pitt cannot get some of his superiors to listen to his warnings.
In the background, another plot unravels where an old woman, who was once deeply involved in revolutionary groups, fears her mind is slipping and she may reveal unfortunate secrets that could even endanger her life. Naturally, these two developments are quite related.
The premise is sound, and Perry handles it relatively well, although the book's length could have been shortened. One of the ways to do that would have been to focus less on the characters' insecurities. Pitt is constantly wondering whether he's up to snuff for the job, and there are far too many soliloquies from some character who ponders on the meaning of a chance word or gesture that some other character made.
Still, the Pitt series is a strong one for those who love their Victorian historical fiction mixed with intrigue and derring-do. Her best? No. But if you like the Pitts, you'll enjoy seeing Thomas' star continue to rise. —Mark Rose