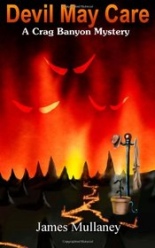 James Mullaney steps out from his time as one of the writers from THE DESTROYER series to play in his own world in DEVIL MAY CARE. It looks to be a straight-up P.I. novel, but readers will find out rather quickly that this series takes place in an alternate version of the world we live in, especially when fairy godmothers, demons from hell, and living stone gargoyles all appear. Yes, in this alternate version of Earth, all those monsters and fables are real, and a trip to Hell is as easy as seeing BATMAN & ROBIN at the local dollar theater.
This is actually the second book in Mullaney's Crag Banyon series, but fear not, as it seems nothing is spoiled from the first one, ONE HORSE OPEN SLAY, which has a Christmas motif. Banyon is one of those down-on-his-luck type of detectives who has, as he states, more empty bottles around his place than a urologist's Dumpster.
Banyon is called upon by a demon named Molokai to find a missing person — actually, a missing soul who has not aged since his death. It seems the soul has escaped Hell, and Molokai needs all the help he can get. Since the police can't be bothered with a man who has been dead for years, Banyon is his only choice.
Of course, the case is just not that simple and leads into a much larger mystery. Mullaney has fun taking a few potshots at a few pop-culture figures — all deserving, mind you, especially a certain author who wrote one of the worst books ever, in my opinion.
But I digress. DEVIL MAY CARE is a breezy enough read. As it's geared toward the e-book set, it's not too overlong to dare lose a reader. The story moves quickly enough with plenty of humor and a nice little mystery. Mullaney has created a world with no boundaries, making it easy for him to populate. I mean, there is even a zombie Johnnie Cochran!
For those looking for a different take on the private eye, Crag Banyon is one character to check out. —Bruce Grossman