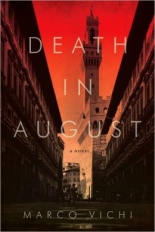 I wanted to like Marco Vichi's DEATH IN AUGUST more than I did. The first in a series featuring Inspector Bordelli, the novel is set in Florence, Italy. Its characters and setting definitely have real promise, but there are some strange sections in this initial effort that prove distracting.
The crime in question is the death of an elderly woman. She suffered from asthma but nothing so severe that it should cause her expiration. And besides, there was a bottle of asthma medicine on her bedside stand, and traces of that medicine in her mouth. The coroner discovers that there is no medicine in her stomach, however, and the bottle had its cap screwed on tightly. Would someone suffering a severe asthma attack bother to screw the cap back on and then die?
The mystery is fairly solid; the method is ingenious; and the detecting is generally well-done. So what's my problem? I wanted more of 1960s Italy. It's an interesting and unusual setting, but it's underutilized here. Two sections of the book could have been entirely edited out: a dinner party where the attendees swap World War II stories, and a bizarre recollection of Bordelli that he had a torrid sexual affair with his nanny when she was 16 and he but 8 (!) years old. I may not be Continental enough to appreciate that, but that four-page reminiscence was way over-the-top.
Still, the character of Bordelli and his partner, Sardinian Gavino Piras, pull the tale through. Bordelli is sour and dour, wise to the ways of the world, charmingly generous to some of the minor criminals he meets along the way. Piras is ramrod straight, tough, intelligent and an able foil for Bordelli. Other books in the series should be able to develop this relationship and perhaps provide more flavor. Vichi may be one to look out for … maybe. —Mark Rose