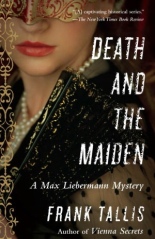 DEATH AND THE MAIDEN is Frank Tallis' sixth novel featuring psychiatrist Doctor Max Liebermann and his friend Detective Inspector Oskar Rheinhardt. Set in turn-of-the-century Vienna, all these books are a heady mix of solid detection, psychoanalysis, social philosophy, classical music, opera and luscious Viennese pastries.
It's a strong, literate, intelligent series that is impeccably researched, as evidenced by the enlightening acknowledgments and sources section at the end where the author explains how many of the anecdotes and asides deftly worked into the text are true.
In this installment, Vienna Court Opera singer Ida Rosenkrantz is found dead in her room, apparently from an accidental overdose of laudanum. Detective Rheinhardt is intrigued by her very careful positioning on the rug, but nothing seems truly amiss … until they discover that one of the singer's ribs has been broken. Did she stumble around the bedroom to fall and accidentally break her rib? Hardly likely.
This leads the duo of Rheinhardt and Liebermann on an investigative romp that lands them in dangerous high society waters. Was the death sparked by rival jealousies, or could there have been a connection to the oily but powerful mayor?
Another psychiatrist, one who once treated Ms. Rosenkrantz, enters the picture and Liebermann is less than impressed. Dr. Sigmund Freud is consulted, and Court Opera director Gustav Mahler also plays a significant role. There are multiple leads to be researched, but some leads are much more sensitive than others, especially for Liebermann.
The anti-Semitism of the time is ably described and Viennese society is not a comfortable place for Jewish men and women, even professionals. The other notable aspect of the series is the friendship between the two men. Liebermann and Rheinhardt act exactly as a reader would expect, alternately taking the lead or following the other's lead throughout the investigation, comfortable in their friendship, secure that they can criticize the other without causing major hurt.
For classical music lovers and those interested in psychology, this series is a must. For those who are looking for a clever, never-dumbed-down period piece of history and detection, this will also earn a place on your shelves. Recommended. —Mark Rose