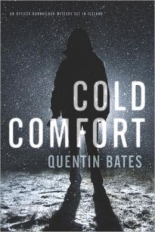 Quentin Bates is not a name you would initially associate with Nordic noir, but his book COLD COMFORT is actually the second in a series featuring Icelandic Sergeant Gunnhildur Gísladóttir, the follow-up to his acclaimed 2011 novel, FROZEN ASSETS.
In this installment, Gunna (as she is more popularly known) is investigating a prison escapee named Long Ommi who is a notorious violent criminal, and who is almost certainly involved in two vicious beatings. However, it's only when a former female TV presenter is murdered, someone who tangentially knew Ommi, that the case really begins to get difficult.
Gunna and her staff run down Ommi fairly quickly in the book, and while they're convinced they can pin some assaults and maybe even the murder on him, something doesn't sound quite right. Gunna holds back to find out more about the presenter, and discovers a huge viper's nest that not only involves Ommi and his thug friends, but a member of the government and several highly influential Icelandic businessmen.
The author presents a very crisp and fast-paced police procedural, relying on realistic dialogue and actual police work to get the action across, rather than distractingly long descriptive paragraphs or flights of fancy. Overall, it's a good thing.
But there's little that jumps out here to really make the series stand out. Gunna and her staff are interesting enough, and the other characters are okay, if without any real depth. The Icelandic setting is fascinating, yet most English readers will be tripping over the unfamiliar language and the odd insistence on referring to characters by their full name more often than not.
That might be nitpicking, though. I read through COLD COMFORT quite happily, enjoying the detection details and the contemporary look at a society that has gone through financial hell and left its citizens poorer than most, and I loved the pace of the book. Bates has a real ear for dialogue and because he allows that to shape the narrative, the novel is very readable. Give it a try.
Bates and the truly excellent Yrsa Sigurðardóttir are the only two novelists I can think of offhand writing Icelandic mysteries, and I think we deserve to see more of these tales on our bookshelves. —Mark Rose