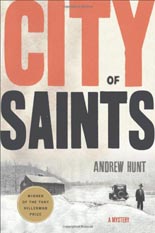 Andrew Hunt's crime novel CITY OF SAINTS won the Tony Hillerman Prize in 2011 for best debut novel set in the Southwest. The setting, timeframe and gritty, realistic police procedures all combine to form a debut novel worthy of a series. Hunt makes the territory around Salt Lake City sing with its epic scenery, and strange mix of population with both rough-and-tumble characters and a huge more staid Mormon population. His descriptive prowess is strong, really putting the reader into the center of the action. Setting the police procedural in 1930 also adds a piquant and welcome film noir touch.
Our protagonist is Deputy Art Oveson, a fairly straitlaced Mormon lad who comes from a long line of policemen. He's confronted head-on by two difficulties: finding the murderer of a woman who was run over multiple times by her own car, and avoiding all the political machinations of his clueless and corrupt Sheriff Fred Cannon.
Cannon has already warned Oveson off of asking certain questions, especially about the murdered woman's husband, and the Sheriff is convinced he knows the identity of the killer. When a man is found who has supposedly committed suicide and confesses to the murder in his suicide note, Cannon closes the case. Oveson continues to work the case surreptitiously.
CITY OF SAINTS excels in areas outside of scenery description and period details. It has a tight little plot marred only at one point by Oveson slightly hindering the investigation by not letting one of the cops he trusts in on some of the details. (That's always a thing that bugs me: withholding information.) Characters are relatable, dialogue realistic, action scenes are well done.
I really enjoyed this book and hope Andrew Hunt brings back Art Oveson, Roscoe Lund and the setting of 1930s Utah in a second book to kick off a series. Recommended. —Mark Rose