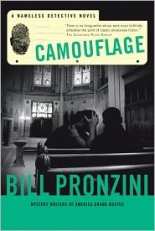 The title of CAMOUFLAGE is pitch-perfect. It all makes sense in the final pages, when the nameless detective of Bill Pronzini's series breaks it all down. This novel deals with two cases, one of which is tracking down the first ex-wife for a man named David Virden.
The job seems easy enough, since all the detective has to do is get the woman to sign some annulment papers so David can marry his fourth wife in a Catholic church. But once he finds the ex, she wants nothing to do with signing anything and is very adamant about never being bothered again. David himself goes to see for himself why she won't sign … and that is the last anyone sees of him.
The second thread deals with another detective in the agency, Jake Runyon, who is asked by his girlfriend to look into a very serious matter: Her 9-year-old son has been coming home from his father's house with bruises and cuts. All suspicions naturally fall on the ex-husband until Jake makes the real discovery, which is nothing compared to what comes later and how he'll be able to solve that crime.
Again, the title spells it out for the readers quite clearly, if only they pay attention. It's all about what these characters want other people to see. Pronzini is a master at such sleight-of-hand mystery writing, with one little sentence being the answer to one of the cases; for the other, it's just determination and solid investigation.
This entry in the series is fine for both longtime fans and new readers. I mean, it's Pronzini, for crying out loud! That alone is enough for you to rush to buy it. —Bruce Grossman