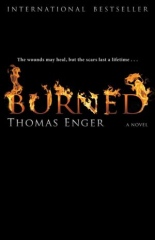 Thomas Enger's debut novel, BURNED, features Norwegian online journalist Henning Juul, a physically and emotionally scarred man who is just returning to work many months after the death of his only son in an apartment fire, a blaze that has ruined Juul's face and buried him in flights of paranoia.
If you don't get it from the names, you should certainly get it from the description that this is another example of Nordic noir, the peculiarly intimate world of damaged psyches and tortured souls that populate practically the entire genre of Scandinavian detective fiction.
In this first installment, a young woman is found half-buried, flogged, stoned to death and with one of her hands cut off. Suspicion immediately falls upon her Muslim boyfriend, and consideration is given to this murder being some abominable variant of Sharia — or Islamic — law.
But Enger, and both the police and journalist characters in his book, go to great lengths to explain sensitively the differences between Sharia law and hudud punishments, and how the concept of Sharia itself is poorly understood by Western communities.
As Juul begins to investigate the case in order to prepare stories for the online site that he works for, he slowly begins to find holes in the police's theory behind the case. And then, as he is interviewing the boyfriend's brother, an intruder steps in and shoots the brother twice in the chest, once in the head. The man then turns to Juul.
BURNED is a thumping excitement of a book that really holds you through the first two-thirds. Unfortunately, its final resolution seems a little contrived, a little too over-the-top which sadly, can also be a meme of Scandinavian detective fiction.
The good news is that Enger's creation of Juul feels right. Juul has a presence in the world, and his hurt makes him both interesting and realistic. Other elements, such as the office politics at the online site where he works, or his connection with the mysterious but very well-informed "6tiermes7" through an online chat room promise much for future series installments.
This is yet another Norwegian mystery author to watch out for. —Mark Rose