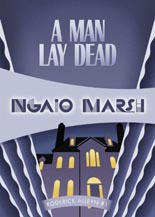 Detectives of all sorts make up this column — two new to it, even though I reviewed a later book in one of the series. You'll also note two familiar faces who have been missing from my reading too long. Kicking things off is the first entry from the prolific Ngaio Marsh and her creation of Inspector Alleyn.
A MAN LAY DEAD by Ngaio Marsh — Marsh was always one of those authors who, whenever I would go to used bookstores, had a row or stack of her books, all with some truly cool covers. I just never had a clue to where to start. Then, of course, it would slip my mind when I got home to look it up. Well, now all that's changed.
This 1934 book is the first is her long-running series of mysteries centered around Inspector Roderick Alleyn. But also it's the one book where, from my understanding, Alleyn is not the focus; it's more on the suspects and a subplot I'll get to.
The plot deals with a weekend party where the game of the evening turns deadly. At this shindig, a group of guests are at Sir Hubert Handesley's estate. Marsh does a fine job of introducing the characters — a cross-section of family and friends — and the subsequent subplot rather easily. The evening's entertainment is a game called Murder — and yes, readers, it will lead to a real one: that of Hubert himself.
He is found with a precious Russian knife sticking out of his back. Who is the culprit and why is that knife so significant? That is actually the subplot of A MAN LAY DEAD, which involves a group of Russians and their secret society. At the center of this well-crafted detective novel enters the inspector. Marsh seems to have had him drawn up completely before starting this book. Alleyn is not the type who lords clues over everyone's head as some other authors might, but makes it so readers can figure it out, too, as the story progresses.
And yes, the story does end with that moment all mystery readers know so well: where the detective details exactly how the crime was committed and by whom. But then, this book came out in 1934, long before this would become a staple used over and over. I'm definitely interested in continuing with this series, especially since, as I stated, the later ones shift the focus to Alleyn.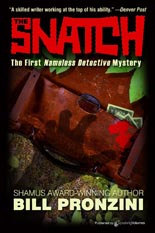 THE SNATCH by Bill Pronzini — I've read a few of the Nameless Detective series over the years, mostly the later entries. I figured it was a perfect time to rectify that situation with the 1971 first entry. What's truly amazing is how Pronzini takes an idea used in other stories and completely makes it his own.
Our nameless hero is called upon by Louis Martinetti, a businessman in dire need of help with paying a ransom. Martinetti's son has been taken from school and the kidnappers want their payday. Martinetti wants to use the detective because he trusts no one else, and the fewer people who know, the better. Everything seems to go to plan the night of the drop-off until the detective hears a screams and gets a knife to the stomach. This turns the case on its ear, so to speak, with the detective wanting to not only recover the young boy, but find out who his attacker is.
Now, this is a plot that's been used many times before and is still used today. The magic is how Pronzini expands on what readers come to expect by throwing a few ingenious twists along the line, all while also introducing them to a creation that he just never named. We actually get a great look at the detective, seeing exactly what drives him, his background in the police force and his love of pulps.
Sure, some of the later novels are more case-based, but with this first entry, Pronzini has a blank canvas to create, and create he does. What I loved was the moment when the detective finally connects the dots, and Pronzini tips his hat to a fellow writer. Very clever indeed.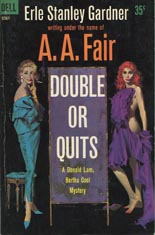 DOUBLE OR QUITS by A.A. Fair — Bertha Cool and Donald Lam have been steady fixtures from the start of this column, but absent for a while, so it was time to revisit the detective duo. Again, I'll state this for the unfamiliar: Fair is actually Erle Stanley Gardner, creator of Perry Mason. For me, this series is far superior and a lot more fun. Why no one has ever thought to make a series of these books is mind-boggling. Just an update here and there, and it could totally work.
Onto the novel itself. Dr. Hilton Devarest was recently robbed of jewels and he wants Cool and Lam to investigate. Devarest points the finger at a woman who works for the family, so he wants to keep the matter private and figured the detective route was the best option. That's all well and good, and Donald super-quickly makes a few deductions. But when it comes time to meet up with his client, Donald makes a discovery in a closed-car garage: Devarest dead by carbon monoxide.
Now Donald makes it his job to not only track down the jewels, but get double indemnity for the now-grieving widow. This 1941 entry is not the strongest book in the Cool and Lam series, but has enough moments to make it worth your time, especially the one fistfight Lam finally wins. And, of course, there are those great moments where Donald shows off his deductive skills and cleverness that keeps him out police hands when he bends the rules a bit. —Bruce Grossman/i>