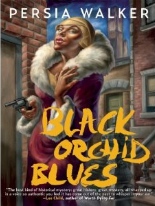 Persia Walker returns again to the fabled Harlem of the 1920s in her third novel, BLACK ORCHID BLUES, and revives Lanie Price, the protagonist first introduced in DARKNESS AND THE DEVIL BEHIND ME. This time, however, she goes deeper behind the scenes of giddy high life with a story brimming over with deceit, family secrets and murder.
Society columnist Lanie Price finally shows up at the Cinnamon Club in Harlem to see and hear Queenie Lovetree, the gravel-voiced singer that everyone in town is talking about. She is not disappointed. In fact, Queenie Lovetree — with her bawdy patter, sexy lyrics and ritzy frock — is everything Lanie expected, and then some. Because Lanie knows that Queenie Lovetree is, in reality, a man in drag.
That's only one of the many items in Queenie's mysterious past that Lanie hopes to learn. But just as Queenie sits down to begin an interview for Lanie's column, an armed man barges into the club and opens fire on the audience while kidnapping Queenie.
Lanie narrowly escapes with her life, but her instincts as a former crime reporter kick in and she immediately begins an investigation into Queenie's abduction. Suspects include the owner of a rival club who failed to lure Queenie away from her current boss, as well as the Cinnamon Club's former featured singer who lost his job when Queenie became the star attraction. Hours pass, but the anticipated ransom demand from the kidnappers never arrives.
 
Then a package containing gruesome proof of the kidnappers' intention arrives at Lanie's door. But when she opens the package, she discovers that it was not intended for her, but rather for the respected and well-to-do family that lives near Lanie in the residential section known as Strivers' Row. What possible connection could there be between the nightclub singer and this quiet family? That's the question that puts Lanie on a twisted path strewn with dangerous lies, double-crossings and ultimately murder.
 
The period and locale are so well-known to Walker, after two previous novels that she presents them effortlessly yet effectively. She is informative when it suites her narrative purpose, but her detailing is never intrusive. After a few pages this long-past era feels as familiar as our contemporary world.
 
The same holds true for Walker's characters. Even the most outrageous of the bunch — like the denizens of Harlem's gay nightlife who cautiously confide in Lanie — are as easily believable as the Irish cop who leads the police investigation into the kidnapping, or Sam Delany, Lanie's protective editor and sometime lover. Then there is Lanie herself, whose first-person narration is as intimate about her own personal insecurities as it is about her beloved Harlem.
The only drawback in all of this is the multilayered complications of Walker's antagonist, and thus, the novel's driving conflict. Several scenes of drawn-out explanations are inevitably needed to tie everything together. This would otherwise be the kiss of death to a novel's pacing. But Walker manages to keep us so involved with the story that we willingly plunge through all this exposition, even when it sometimes stains credibility. The payoff is that BLACK ORCHID BLUES often has the wonderful ambience of a classic, pulp-era serial.
 
Advance reviews have favorably compared this work to the period novels of Walter Mosley and James Ellory. Yet Walker is well on her way to establishing a distinctive voice of her own. With a character like Lanie Price helping her, that time won't be too far off. —Alan Cranis