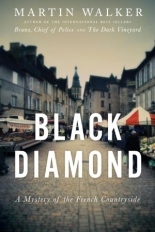 Martin Walker's BLACK DIAMOND is the third in the series featuring small-town French detective Benoît "Bruno" Courrèges, and his sweetly refreshing attitude about being willing to "police" his citizens, but being unwilling to "regulate" them. He is an honorable cop, someone who chafes at the increasingly bizarre and bureaucratic regulations that come out of the European Union, regulations that threaten to destroy local communities and civilizations.
The opening reveals some of the conflicts. A sawmill owner has been forced three times to install environmental protection equipment in his plant, and he has complied three times. But new EU regulations state that his plant cannot be as close as it is to some new subsidized housing that has just been built.
Although he has a choice, he is angered and decides to shutter the plant, meaning the little town of St. Denis will lose all those jobs. The plant owner is inconvenienced, but he will open his plant elsewhere. What really infuriates the plant owner is the fact that his own estranged son was the man who led the fight to have the sawmill removed from town.
This small-scale political war is replicated on a much larger scale by a Chinese-Vietnamese war among immigrant families. Immigration is a serious issue in France, and Walker handles at least the Asian aspect of this concern sensitively.
All the while, Bruno is investigating firebombed Chinese restaurants and vandalized Vietnamese market stalls, he is also looking into the local truffle market. Something is wrong at the market, as truffles are being sold at way below market price, and the benefactor seems to be either the sawmill owner or his son. Strange goings-on, indeed.
There's a lot going on in Walker's and Bruno's world, and there tends to be a little bit too much complication. But the characters of the little town of St. Denis — and especially Bruno himself — are so endearing and fascinating that the story holds up quite well. Walker dwells on the French countryside, the food and wine, the attitude and community of the local inhabitants, and as a reader, you become involved with the quirky little community and hope for the best for its citizens. "Charming" is the word I want to use, but I hope it doesn't put off cynics in the audience.
The Bruno series is a wonderful snapshot of contemporary small-town French life, with likable characters, intricate plots and a peculiar satisfaction that comes from reading about a world that has its problems and malcontents, but also has a contentment with life and a rightness about itself. It is Walker's particular genius that he can do all this in a mystery that will have you turning the pages until late in the evening. Highly recommended. —Mark Rose