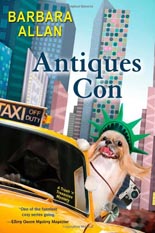 ANTIQUES CON is another entry in the Trash 'n' Treasures mystery series by Barbara Allan, a collaboration of husband-and-wife writers Max Allan Collins and Barbara Collins. This zany, farcical series tracks the adventures of Brandy and Vivian Borne, a daughter and mother team who deal in antiques and collectibles. While Brandy lays claim to being the voice of reason, her inimitable mother is the one who almost always lands the girls into some very deep trouble. And reason has little to do with it.
This time around, they're visiting a comics convention in order to sell an original Superman drawing that they managed to find in a storage locker. Unfortunately, within a short time after their arrival, the organizer of the convention is found stabbed to death with one of the very awards he had planned to give out at the con's awards show.
The investigation takes a number of oddball turns, something that's impossible to avoid with the rather wild Borne clan. But their discoveries and manipulations add up, and the mystery and its solution are easy to follow even with the sidebars, something for which other mystery authors should strive.
As Barbara Allan, the writing team has a delightfully light and breezy style. There are no glowering monsters of depravity here. Much of the humor comes from the clear-eyed willfulness of Vivian, who is more than content to play the doddering old lady, even if she's more of an impish sprite, as long as she gets her way. Whether she is directly confronting a mob boss in his own lair, or somehow contriving to borrow costumes from a Broadway production for the comic con's masquerade party, her long-suffering daughter, and the readers, are never quite sure what Vivian will pull off next.
It's kind of a jokey cozy. If you're tired of the dour, dark and brooding mysteries so prevalent today, give your soul a little lift with this cheeky and fun series. —Mark Rose