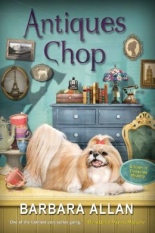 ANTIQUES CHOP is Barbara Allan's seventh comic mystery novel featuring part-time antiques dealer Brandy Borne and her hilariously overbearing mother (more on that later), Vivian. Barbara Allan is the nom de plume of a collaboration between Barbara Collins and her extremely prolific husband, Max Allan Collins, and together they work on what is known as the "Trash 'n' Treasure" series.
In this installment, the Bornes are surprised to find that they are in demand as hosts of a new reality television show. The show's producer pitches them the idea of ANTIQUES SLEUTHS, a series that mimics the PBS' ANTIQUES ROADSHOW, but would also include mini-documentaries about the various crimes the Borne family had solved in the past. This all sounds very promising.
In fact, Vivian even knows the perfect location for the antiques shop where the show will be set. There is an old house that used to contain a mystery bookstore and is now vacant. Fifty years earlier, a horrific ax murder occurred in the house, and Vivian testified for the defense of the man accused of the crime. Well, okay then. Only problem is that before the show can begin production, the producer is found dead, dismembered with an ax, in the very same home. Now the Bornes must solve both mysteries, the contemporary one and the decades-old crime.
As series readers will expect, the Bornes do this while stepping on various toes, and with the Borne women occasionally bickering with each other. It's all done in such a light and charming tone, with real chuckles and laughs throughout, that you almost don't care about the brutal murders; you just want to know what crazy scheme Vivian Borne is up to next.
As for the "mother" bit alluded to above, apparently Brandy is not Vivian's biological child, but is actually the child of her own elder sister. Ew. This revelation took place in an earlier novel. Can't fault the series for not being dynamic enough, I guess.
This is a quick and enjoyable read with strong and likable characters, an adequate plot and — dang it all — it's just fun. There's even a meta-narrative gimmick where we see Brandy and Vivian commenting on the editing of the actual story that we're reading which isn't overdone and provides a laugh or two. I would have liked a bit more of the antiques trade but overall, ANTIQUES CHOP is quite fulfilling. —Mark Rose