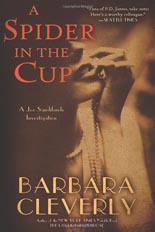 Barbara Cleverly's 11th Joe Sandilands mystery, A SPIDER IN THE CUP, has the assistant commissioner of Scotland Yard on a new type of assignment: protection.
The World Economic Congress is coming to London, bringing great minds from all over the world to discuss the dreadful economic situation of 1933. Depression in America, an arming and restless Germany, and a kind of grumpy restlessness abounds that covers the range of pacifist isolationism to aggressive saber-rattling. It's a powder keg.
Sandilands is tasked to cover U.S. Sen. Cornelius Kingstone, a jovial sort of chap whom Sandilands instantly likes. Kingstone is problematic in that he likes to break routine in order to pay attention to the ladies — specifically, ballet dancer Natalia Kirilovna. No one wants a scandal to break, so everything must be very discreet.
This becomes extremely difficult when a young lady is found buried in the mud of the Thames, with one of her toes cut off. At first, Sandilands thinks this may be Kirilovna, who has stormed off in one of her habitual fits and is nowhere to be found. But when he connects the case of the buried woman with the man he is attempting to protect, he opens up a much more serious and deadly can of worms.
I generally like Cleverly and the Sandilands series, but this entry is kind of a disappointment. Plotting is strange with so many red herrings that the reader — and probably the author — gets confused. For instance, the girl found in the Thames has an expensive gold coin tucked under her tongue. While it does play a decisive role in determining the killer, the killer had no real or imagined reason to place the coin with the body. Frustrating.
Dialogue is wildly overwrought for all characters and just doesn't feel right. The character of Kingstone is alternately chipper, dour, friendly and aggressive, and ends up being confusing. He is convinced that powerful men of money are behind his travails, and one expects mention of the Illuminati or the Bilderberg group at any moment. While his paranoia is justified since he is being threatened throughout the book, his political ranting sounds a mite unhinged.
Secret societies, mysterious women's health clinics, a man from Sandilands' past who is not necessarily to be trusted — it just all seems heaped on. Look, Cleverly's a good writer and the Sandilands series is decent enough. If you're a die-hard fan, you'll have to have this book.
But if you're starting out, may want to give another of her works such as FOLLY DU JOUR or NOT MY BLOOD a try first. —Mark Rose