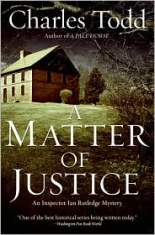 There's good news and bad news about A MATTER OF JUSTICE by Charles Todd, the 11th in a series of novels featuring Inspector Ian Rutledge. First, the good news: It's an interesting series. In World War I, Rutledge was forced to execute a man for insubordination, and the ghost of that man follows Rutledge around in 1920 Britain, haunting him and offering his own opinions on Rutledge's investigations. The mother-and-son team that writes as Todd handles this quirk most delicately, never overplaying the effect, and using it to provide insight into Rutledge's heart and soul.
The plot is solid, involving a monstrous act of betrayal and brutality in the Boer War of 1902, and an equally monstrous plan for revenge almost 20 years later. The action and dialogue are realistic, and there's some tremendous verbal fencing between Rutledge and Padgett, the local inspector. The depiction of dogged police work is also enjoyable, as we see every step of Rutledge's investigation.
But there's some less good news, too: This book continues in the vein of previous Todd books in providing minute descriptions of building locations, streets, sight lines and the like, but it's hard to comprehend the terrain without a map. When the plot centers on who can see what from where, that's a problem.
I also was rather surprised at a clunker that should have been caught somewhere along the line. On page 120 and page 220, Rutledge states his concern that a particular character never asked how one Harold Quarles died. But that just isn't true. That character expressly says on page 112, "Dead? Where? How?," asking the questions one would think to ask upon hearing of the death. Rutledge tells him he was murdered, and admittedly, the character doesn't ask what method of murder was used, but I don't think that's enough for Rutledge to have become suspicious. It's a minor detail, but it bothered me throughout.
Those quibbles aside, the Rutledge series is fascinating for its setting of Britain in the year 1920, its portrayal of a literally haunted man as the main protagonist, and for its detailed description of old-fashioned police work. It's like one of the old-school MYSTERY! shows we used to watch on PBS many years ago. —Mark Rose
OTHER BOOKGASM REVIEWS OF THIS AUTHOR:
• A FALSE MIRROR by Charles Todd
• A LONG SHADOW by Charles Todd
• A TEST OF WILLS by Charles Todd