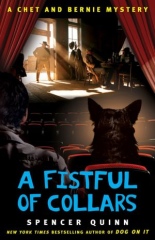 Spencer Quinn (a pseudonym of Peter Abrahams) has carved out a comfortable niche for himself in the mystery genre with his Chet and Bernie series. In the fifth book, A FISTFUL OF COLLARS, the story is written — as always — from the point of view of Chet, a 100-pound, rough-and-tumble mutt of a dog who is insanely positive and has an endearingly goofy happy-go-lucky attitude.
His partner in the stories and in the Little Detective Agency is Bernie Little, the ostensible owner of the agency, who happens to be human. They work as a private investigative team solving minor crimes, doing occasional divorce work, and trying not to admit that they're really in love with the local newspaper reporter, Suzy.
This time, the plot revolves around a movie that is coming to town. The mayor has encouraged film crews to visit in the hopes of kickstarting the local economy and he's landed one that stars Thad Perry, a huge heartthrob. Unfortunately, Perry is known for overindulging in alcohol and drugs, and so the mayor decides to hire the Little Detective Agency to watch over him.
This suits no one very well, and eventually, Perry gets hammered and threatens suicide. In his drug haze, he hints at a past mystery and Bernie Little latches onto this like … well, like a dog on a bone.
A FISTFUL OF COLLARS is more successful than Quinn's previous two series entries, primarily because it spends more time on the mystery and less on falsely threatening imprisonment for Bernie or the disappearance of Chet. If you love dogs, and you don't mind the anthropomorphizing, you should certainly enjoy the series and this book in particular.
Sometimes, Chet's wandering thought patterns can become wearying, but since they provide the novel's humor, you'll either come to love these crazy digressions or you'll find another book to read. If you're a dog person, you should definitely give this series a try. —Mark Rose