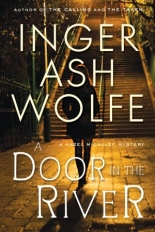 The oddly named A DOOR IN THE RIVER is the third mystery novel from author Inger Ash Wolfe featuring her main character, Detective Inspector Hazel Micallef, who serves as the interim commanding officer of a small Canadian town named Port Dundas.
It's all very bucolic and peaceful until a young handyman who is well-loved in the area is found dead in a smokeshop parking lot. The autopsy indicated he died of anaphylactic shock, possibly from a bee sting. But the man didn't smoke, and he was miles away from where he was supposed to be. Micallef suspects there is more to the case.
Part of the charm of the series is the way Micallef works: a curious mix of instinct, hunches and wild-ass guesses that almost always end up being right. As one character describes it, "There was no way you were going to make your own logic as internally consistent as hers." And that character also notes it's too bad Micallef wields that like a mallet.
Her suspicion of the bee-sting death eventually leads to the discovery that the man was electrocuted with some form of taser. Shortly thereafter, the man's widow opens her door to a young lady who says she is lost, then pulls out a taser and stuns the widow while she rifles the house. These curious events lead Micallef and her team on a lengthy investigation that will reveal a very horrific strain in the otherwise peaceful Port Dundas.
The investigation is exciting, dialogue is well done, and the characters are fairly well-drawn, hinting at deeper secrets and motivations within each that make them into real people. Where Wolfe falls down a bit is at descriptive passages. Certain aspects just aren't described well enough to make them comprehensible, especially the part that gives the book its title.
It's not a fatal flaw, however. Wolfe's work to make DI Hazel Micallef and her team, and the changing dynamics of that team, appealing to the reader all pays off in an interesting and worthwhile series to try. —Mark Rose