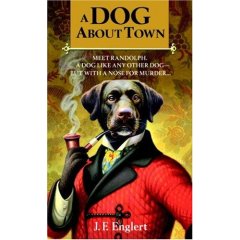 After many years and multiple series of mysteries featuring brilliant felines, now we get a few that feature canines as intrepid detectives. J.F. Englert's A DOG ABOUT TOWN is actually written from the dog's point of view. The dog in question is Randolph, a somewhat chubby purebred black Labrador, who is pictured very charmingly and appropriately by Dan Craig on the cover.
Randolph is a literate dog, and this makes him special even among other dogs. All dogs can communicate thoughts and interests, but they don't all have the focus and concentration to form complete sentences and paragraphs of exposition. Randolph can, but of course, he is limited by his species' restricted vocal cords and peculiar form of body language.
One of the main ways he communicates with his owner is via Alpha-Bits cereal. Randolph pushes the letters around to form sentences, and his owner believes they are messages to him from the spirit world, never suspecting that his dog is a genius. Strained, but cute.
Randolph and his owner Harry are missing the love of their life, Imogen, who went out one day to buy bread and never returned. Harry has let things slip a bit, and is beginning to believe in the paranormal, hoping for some form of contact with Imogen. Randolph disapproves, but uses this failing to everyone's advantage.
Harry attends a séance where a famous author dies of an apparent heart attack in the bathroom. It is only after Randolph has visited other people's pets in the company of Harry that man's best friend begins to suspect the death was not a natural one. Randolph slowly pieces together the crime, passing along detecting hints to Harry via the medium of letter-based cereal, until the culprit eventually is revealed.
You don't look to this type of book for brilliant detection or grittily realistic plot. The fun is in suspending disbelief and looking at the world through the eyes of a dog. Englert finally provides a reason for why my own dog Sophia (a burly, 100-pound-plus mix of Lab and Rottweiler) loves to roll in the carcasses of dead animals, which he calls "sidewalk pate."
And there's a certain joy to hear from a dog about the rules of "doing one's numbers" in a public park. If you like that kind of whimsicality and you're a dog person, you'll enjoy J.F. Englert's A DOG ABOUT TOWN. –Mark Rose