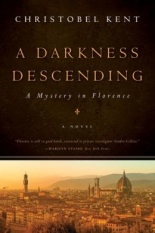 Christobel Kent continues the Sandro Cellini series with A DARKNESS DESCENDING, a tragic tale of suicide interspersed with the oddities of Italian political life and the welcome attention the author gives to the family life of all concerned.
Sandro and his wife, Luisa, have basically become surrogate parents to ex-addict Giulietta Sarto, who now assists Sandro in his work as a private investigator. She attends a political rally of the Frazione Verde, a left-wing action group devoted to helping the common man and avoiding the all too rife corruption of Italian institutions. The charismatic leader of the Frazione Verde collapses during his speech and is taken away in an ambulance.
As Sandro and Sarto begin to look into the collapse, they discover that the man's domestic partner has left him. Disappeared and left her 6-week-old child behind. The mother-in-law hires Sandro to find the woman. And when he does, the story gets far worse.
Kent has created a realistic and likable main character in Sandro Cellini. He is very much in love with his wife, and together they love and support Sarto and her new boyfriend. Additionally, Sandro's friend and ex-partner in the police is dealing with the difficulty of having his only daughter move out of the house. The relationships between all these people — sometimes trusting, sometimes strained — is well-depicted, and the author shows how the surrounding investigations can affect these relationships.
The setting of contemporary Florence, Italy, is well-done; dialogue is strong; and the detective legwork all makes sense. The final plot device of the antagonist tying both the stories of the political party and the wayward daughter together is perhaps a little too glib, but the author's overall style and storytelling work very well. It's a worthy addition to the series. —Mark Rose