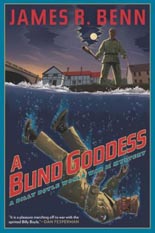 I think James R. Benn is getting even better. In his eighth Billy Boyle novel, A BLIND GODDESS, the author takes on the subject of racial segregation in the troops during World War II and covers race relations in general. It's a difficult subject, filled with horrific stories of racism based on true events, and Benn handles this all seamlessly along with an involved murder and kidnapping investigation.
Boyle, who is assigned to Supreme Headquarters, Allied Expeditionary Force as a special investigator, is requested by MI5 to look into the death of a civilian boarding at a home near one of the Allied air bases. MI5 won't tell Boyle the reason why they want this investigated, or indeed, much of anything else. "Need to know," you know.
At the same time, one of Boyle's black childhood friends and a soldier in a tank destroyer division, Eugene "Tree" Jackson, requests Boyle's help in clearing the name of one his fellow gunners, accused of murdering a local English constable.
Boyle is pretty sure that the gunner is innocent, railroaded by a racist American forces Criminal Investigation Division, but he's having trouble finding proof, and even more trouble getting any leads whatever on his main assignment. The civilian boarder seemed to lead a squeaky clean, very quiet and lonely life. So why was he killed? And to complicate matters, a refugee teenage girl has gone missing. Has she been abducted, and is she still alive?
Benn ties all these storylines together, involving his usual cast of characters including Boyle's lover, Diana Seaton of the Special Operations Executive; the Polish Baron "Kaz" Kazimierz; and even the lovable lout Big Mike, who makes a few appearances. Gen. Dwight Eisenhower shows up to promote Boyle to captain, and we even get to meet Sir John Masterman of the Twenty Committee, a most fascinating individual who wrote the book THE DOUBLE-CROSS SYSTEM, which is highly recommended.
The action scenes are pretty exciting, the police work dogged and appropriate, the tension is high and the plotting is strong. It's all a big bag of delicious intrigue if you love World War II-era stories. Definitely a series you should look into. —Mark Rose