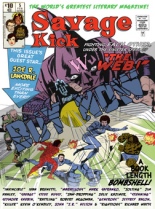 How's about a SAVAGE KICK to the crotch? Murder Slim Press' roughly annual literary magazine makes a strong case for its hyperbolic "world's greatest" tag with this, its fifth issue. It sports a great cover that parodies an old issue of FANTASTIC FOUR, but luckily, there's more greatness inside.
And it begins with some wonderfully profane, full-page cartoons by indie cartoonist Ivan Brunetti. Interestingly, they're older ones that he's kinda ashamed of, per the rather frank, self-loathing interview that follows. He admits they came from an angrier part of him and that he wouldn't do them today, so one wonders how the KICK edit team convinced him to let them be reprinted.
Oh, and this being a lit mag, there are short stories. Lots and lots of them, mostly dealing with themes of sex, drugs and criminal activity, from ass fetishists and broken hearts to door-to-door salesmen and Halloween, all under titles as delightful as "Deadly Spanking" and "Slut, Bitch, Whore." Both Seymour Shubin and Joe R. Lansdale contribute tales in their own tight, unique ways, and each following welcome Q&As with both.
SK5 closes with its picks of 2009, including the unflinching film BRONSON. All in all, the bound mag is 232 pages worth of work that's unafraid to be exactly what it wants to be, so take it or leave it. BOOKGASM fans, that means take it. —Rod Lott