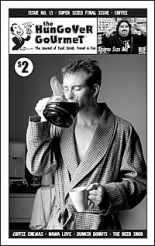 Another long-awaited zine calls it quits — at least in physical, hold-it-in-your-hands form — with THE HUNGOVER GOURMET #11, but editor Dan Taylor sees to it that his food-and-drink publication goes out with a bang. Or that should be a hit of caffeine?
This super-sized final issue takes its focus from the magic bean known as coffee. Contained within are pieces both pro and con, which warms the heart of someone like me who loves the jolt of jitters, but detests — detests — the taste of the brew. To that end, whoever this Dara Bujon and Tim Hinley are, they become instant pals for their brave essays, "Juan Valdez Is No Friend of Mine" and "Coffee Hell: I'm in the Wrong Place!"
Elsewhere W.P. Tandy sings the praises of Wawa Coffee — a brand unfamiliar to me here in the heartland; A.J. Michel offers 10 reasons why the Dunkin' Donuts blend beats Starbucks; and Tom Crites explores coffee enemas, which is all I need to read, lest I ever be tempted to try a cup of joe again.
The longest article in the issue has nothing to do with coffee, and it's also the best. This may sound biased, but it's BOOKGASM contributor Louis Fowler's "Stupid Size Me," an eight-page journal of his experiment to eat on only $20 a week, exclusively consuming edibles and beverages purchased from his local Big Lots. Considering that Armour Honey Mustard Flavor Vienna Sausage and Del Monte Toddler Cuisine Animal Pasta are on the menu, you know it's not going to be pretty. In fact, it's nauseating, which makes it laugh-out-loud funny.
At $3 shipped, that's less than one of those double-frap thingies you love so much. —Rod Lott
OTHER BOOKGASM REVIEWS OF THIS SERIES:
• THE HUNGOVER GOURMET #9