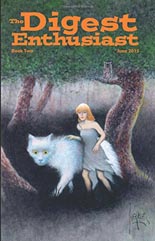 No sophomore slump exists with the second issue of THE DIGEST ENTHUSIAST, Larque Press' perfect-bound paperback quarterly dedicated to the world of digest magazines past and present … but mostly the past, given the narrowed state of physical-copy publishing in today's times. (Ironically, that same technology that has reduced newsstand readership has allowed this very publication to exist.) In fact, BOOK TWO is even better than BOOK ONE, and not just because the page count has leapt from 116 to 152.
Carrying over the debut issue's mix of essays and reviews with a smattering of original fiction, discovery lay at the heart of editor Arkay Olgar's project, perhaps best illustrated (no pun intended) by Joe Wehrle Jr.'s article on a long-running action-comics digest from Italy, starring eponymous he-man MISTER NO. Where else would we learn of such a thing on this side of the globe?
Striking the same international vein, Gary Lovisi introduces readers to the world of Australia crime pulps of the 1950s. Like the red-blooded American ones, the Down Under digests played up the scantily clad dames amid hyperbolic headlines, e.g. "The Stripped Died Dressed!" Charlie Jacobs provides another highlight with a lengthy look at THE MYSTERIOUS TRAVELER, an anthology radio program that spawned a short-lived magazine and a shorter-lived comic book. On the review side, Rudolph Schmidt spotlights issue 15 of Tim Paxton's MONSTER!, an excellent monthly mag I've been snapping up since its start. It deserves every bit of press and praise it gets here.
Participating in interesting Q-and-A interviews are NOSTALGIA DIGEST editor/publisher Steve Darnall, ALFRED HITCHOCK MYSTERY MAGAZINE contributor Robert Lopresti and the aforementioned Lovisi, of the Gryphon Books house. Elsewhere, there are looks at BEYOND FANTASY FICTION, the conspiracy-minded BORDERLINE, trading cards of ASTOUNDING STORIES covers, sales numbers of the various ARCHIE comics digests and much, much more.
You don't have to be a collector of digests (I'm not) to enjoy this magazine. While some pieces do plunge into minutiae, ENTHUSIAST is, on the whole, appealing to the broad side of popular culture. —Rod Lott