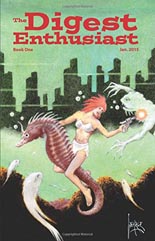 When a publication about your obsessive hobby reads interesting even to someone who doesn't share that obsessive hobby, you're doing something right.
Clearly, THE DIGEST ENTHUSIAST is doing something right.
Printed appropriately in near-digest form, the magazine devotes itself to — what else? — the world of digest magazines. Carrying the label of BOOK ONE, the new pub debuted in late January. Get aboard now so the out-of-love endeavor may continue.
Edited by Arkay Olgar, the first issue makes good on its promise to allow readers to "explore the world" of its collectible, highly fetishized subject. Digests both old and new (but mostly old) are covered, arguably most effective through interviews. Here, that includes Phyllis Galde, editor of FATE (the piece doubles as a terrific intro to and history of that strange-phenomena mag); Gordon Van Gelder, editor of FANTASY & SCIENCE FICTION; and D. Blake Werts, editor of nothing, but a super-collector of any and all ARCHIE comics in digest form. (Werts also contributes an article to the issue, on protecting digests in plastic sleeves. Turns out it's not as simple as you'd think!)
All those are standouts, as are a retrospective of GALAXY SCIENCE FICTION and a lengthy "In Defense of Digests" opinion piece, both lavishly illustrated with vintage covers. My favorite of the entire 116-page issue, however, is a peek at Myron Fass' "girlie" digests of the 1950s through '70s. Yeah, the generous helping of cover illustrations help cement that standing.
What digest would be complete without fiction? THE DIGEST ENTHUSIAST knows the answer ("none"), which is why three short stories are scattered about the contents and should not be overlooked by fans of the crime pulps.
Finally, speaking of the pulps, the paper stock here is not that cheap stuff. Because THE DIGEST ENTHUSIAST is produced via Amazon's print-on-demand technology, it's packaged like a nice, clean paperback. Hardcore digest devotees may have preferred the pulp for texture, nostalgia or authenticity (or all of the above), but at least this issue is one that won't easily fall apart with age — a very good thing, considering you'll want to collect 'em all. —Rod Lott