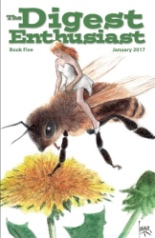 On the first page after its table of contents, THE DIGEST ENTHUSIAST's fifth issue notes that four fiction digests — those bearing the brand names of Alfred Hitchcock, Isaac Asimov and Ellery Queen — have shifted from a 10-issue yearly schedule to a mere half-dozen. The cost-cutting measure is a sign of these tough publishing times.
Luckily, it's one that ENTHUSIAST doesn't have to worry about, for two major reasons: First, editor and publisher Richard Krauss is more focused on covering the past history of these magazines, whose heyday is long behind them. And second, being an indie publication in today's print-on-demand technology, pesky things like "unsold copies" do not exist. Praise be!
Bearing a January cover date, this first issue of 2017 doesn't quite offer the strong variety of contents as both 2016 issues did, yet still hits more than a few homers. Chief among them is Steve Carper's exhaustive (but hardly exhausting) "The Riddle of the Ellery Queen Select Series," an interesting overview of not the famed detective's stories and novels, but of the Queen team's promotion of other authors — including John Dickson Carr, O. Henry and a very reluctant (but very, very thirsty) Dashiell Hammett — for a handpicked series of EQ-branded mysteries in the late 1940s. I was unaware this series even existed. A complete index follows, as is ENTHUSIAST's wont.
Speaking of anal-retentiveness, Peter Enfantino covers each and every issue of Robert A.W. Lowndes' forgotten MAGAZINE OF HORROR. By diving into the contents of all 36 editions from the 1960s and early '70s, Enfantino is as expansive here as his other efforts in pages past, but I am more appreciate of his inclusion of the periodical's backstory. Another highlight is Krauss' easygoing interview with the prolific and multitalented Bill Crider, mystery scribe extraordinaire.
As usual, we find reviews of random back issues (à la MARVEL SCIENCE STORIES of May 1951, featuring a pro-Dianetics feature by that old motherfucker Hubbard, L. Ron) and pulp paperbacks (like Charles Beckman Jr.'s HONKY-TONK GIRL, a torrid 1953 novel set at "the last stop for the scum of humanity on the road to hell!"). It is oddball touches like these — and definitely like the instructions on how to download some nifty-looking checklist trading cards — that keep THE DIGEST ENTHUSIAST fresh, even when its subject of choice may be collecting dust in your Gram-Gram's garage. —Rod Lott