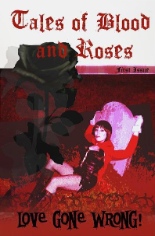 This is a tough time to be launching a new print periodical, especially one that caters to a niche market. While many print magazines and newspapers are struggling to stay in business, there are many that are simply closing up shop (R.I.P. WIZARD) or going to a strictly online publication format.
Or, as in the case of THE COMICS JOURNAL, are doing regular online publishing with an annual print edition. Even the webzines are struggling; R.I.P ThugLit … although it did last five years, which is damn good stamina in a market dominated by YA fiction and paranormal romance.
TALES OF BLOOD AND ROSES from publisher/editor Jeffrey L. Shipley basically says to hell with the doomsayers. Shipley has launched a horror zine in a publishing world that resembles piranha-infested waters and an ever-decreasing number of lifeboats.
It takes more than money and a vision to launch a horror zine that is equal parts short stories, flash fiction and poetry. It takes chutzpah. It takes … well, picture the scene in GLENGARRY GLEN ROSS when Alec Baldwin removes the pair of brass balls from his briefcase and shows it to the salesmen. That's what it takes in today's market.
Confession: I was prepared to hate it.
It looks like something some Goth fans would print up and hand out at a concert venue or give away for free outside a Charlaine Harris book signing. It's 16 pages of (admittedly) good quality copier paper, stapled in the middle and folded over. It's more of a booklet than a magazine, something that makes you think high school students with access to Mom and Dad's printer cartridges rather than a professional publication.
Looks can be deceiving, however, and we all know the old adage about not judging a book by its cover. Of course, all of us have been fooled by a book cover at some point. Right?
So despite my initial misgivings, I decided to give TALES OF BLOOD AND ROSES the benefit of the doubt and judge it by its contents. Not bad. There's some really good stuff, some okay stuff, some mediocre stuff and … well, some stuff that needed to gestate for a bit longer.
Do the math: 16 pages folded in half with writing and/or photos on both sides; eliminate the front and back cover; eliminate the inside front cover, as it's a table of contents; eliminate the last two pages, as they are a list of the contributors. That leaves 59 pages to cram in stories, poems and a few photos. Shipley and poetry editor Jannabelle Lee do their best to utilize every square inch of space to get in as much as possible. With those odds, you're bound to read some gems, and some clunkers.
Much of the stories and poems deal with the staples of the horror genre: vampires, werewolves, ghosts and zombies. There are a few pieces that transcend those limitations, but the majority keeps their roots close to home. The photos serve little purpose; they serve as atmosphere, perhaps, or as visual aids such as in the extremely short piece "An Unlikely Conversation," about the exchange between an angel and a demon. Sometimes they seemed out of place, for instance when they are simply shots of a model in Gothic wear or fetishistic bondage poses.
My favorite stories in this issue are the ones that transcend the genre:
• "That Time of the Month" by Jennifer Yousfi, about a woman who discovers that her husband is a werewolf. She suffers for her discovery, and endures in order to keep her family together. But is the story really about a woman married to a lycanthrope? Or is the deeper meaning about domestic violence?
• "Halliegh" by R.A. Boyd, about a dead little girl and a dangerous swimming pool.
• "All for Lucy" by the editor himself, about a man willing to murder for love, and the unfortunate circumstances that arise when he's unable to get exactly what he wants.
• "Shelia" by Rebecca Urban, a dense, two-paragraph piece that is more a hate-filled rant against men than a story. But it's a story as well, and it's my personal fave of the bunch. How can you not love a piece that starts off with, "Passions resemble dead-end roses run over by my drunk ass boyfriend at 2 AM when he can't find his dick anymore?" And it just gets better from there.
Genre poetry is a tough balancing act. Poe did it well; Lovecraft did it adequately. Robert E. Howard did it badly (and I'm a huge fan of Howard's stories, but honestly, his poetry was just painful to read). The poetry contained in this issue was at either ends of the spectrum. They were either good and told a story ("Zombie Love," "Lycanthrope," "Clipped Wings," "Vampyr") or they appeared to be collections of random and nonsensical words ("Dead Run," "Splatterpunk Retreat," "Drip Tray Enchantress"). I loved "Chronic Overtouch: Canto 1" by C.M. Sidwell, mainly because it starts off with the line, "My tongue navigates a rhythm in your pussy-purse."
The rest of the stories and poems get a passing grade, although I found "The Yellow House" by Elizabeth Riggs to be highly derivative with an ending that was old back when it first aired on THE TWILIGHT ZONE. The real head-scratchers were "Soundtrack to a Love Gone Wrong," an essay about music, and a cartoon by someone named Darkman. Both seemed as if they were meant for another publication entirely. But maybe that's just me.
TALES OF BLOOD AND ROSES may, I hope, evolve into something quite extraordinary. I'll be curious to see what future issues are like. —Slade Grayson