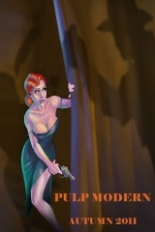 Unlike many crime-fiction collections that have come out of late, the Alec Cizak-edited PULP MODERN: AUTUM 2011 is a bit different, in the sense that it's divided into three distinct genres: crime, fantasy and Westerns, each of which had a foothold in the pulps of old.
The 170-page inaugural issue begins with a reprint of a Lawrence Block story, "Murder Is My Business." While it's a great way to kick it all off, most readers will see exactly where it's going. But then, that might have been the point, since the rest of the collection is no by-the-numbers affair.
Cooper Smith's "Feel Good Hit of the Summer" is about a group of criminals whose love for crime films fits in with the events in which they are about to partake, right up to the fitting end. I really loved the truly noir feel of John Kenyon's "Train in Vain," which deals with a pair of brothers and their love for The Clash. It takes the radar into a nightmarish world where family can help, but also hurt.
Moving into the fantasy section, the standout is "Disintegration" by Glenn Gary, about a doctor slowly fading away, and literally. At first, the narrator's finger turns black and falls off, only to become dust. "Early Retirement" by C.J. Edwards is a tale of space madness in the far future. There is also some serious black comedy in "Omelette du Jour" by Yarrow Paisley, which will make think twice about eggs.
Closing out the collection are five Westerns, ranging from the contemporary to the Old West days. Melissa Embry's "Eight Seconds" could have easily fit into the crime arena, with its story of a man who finds out someone else knows the secret he has kept hidden for years. A cowboy wanting to honor his mother's wishes informs "Billy Clanton, You Take Off Them Boots Now" by Jimmy Callaway," while "Pack of Wolves" by Matthew Pizzoloto delves into the world of bank robbers and the consequences of that life choice.
PULP MODERN is a valiant attempt for these unknown writers to get their work out there in the cluttered world of crime fiction, in hopes of great exposure. —Bruce Grossman