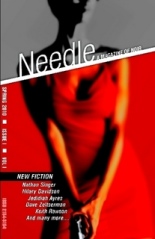 A new magazine catering to crime short fiction is a tough enterprise. I mean, you really have to deliver the goods with your opening shot, because if you limp along with lackluster material, you can forget about ever seeing issue two.
The debut issue of NEEDLE: A MAGAZINE OF NOIR is lean, mean and all about the dark world of crime. (Yes, they're up to #3 now, so we're behind.) This ain't for pussies. With a lineup of names that have been working the short-fiction circles, you know these people will deliver like a fist to the gut. Put together by editor Steve Weddle, this debut blows away a certain anthology series that is barely treading water in whatever city they are using to cash in.
What is truly great is that none of the pieces wear out its welcome. At just under 170 pages, NEEDLE has 15 tales of degenerates, scumbags, mob goons, drug runners, killers and a book critic. Because we all know book critics are the most evil folks out there. If you don't believe me, check out Patti Abbott's "I Am Madame X's Bodyguard," detailing the life of a former mob enforcer who has been put out to pasture, now making a paycheck by protecting Hollywood clients, including a female book critic who would make Cormac McCarthy went his pants. Abbott has lot of fun with her story, and it's such a great read for its short length.
One of the real standouts is Hilary Davidson's "The Black Widow Club," telling the heartwarming tale of how a mother and daughter have bonded like only family can. Dave Zeltserman provides an older story of his with "'Til Death Do You Part," in which we follow a couple from the point their relationship can never be broken, no matter how much they hate each other.
But as dark as this collection gets, we do get a little humor thrown in. Okay, seriously black humor, but that's the best kind. Keith Rawson gives us a drug deliveryman who has a really bad day in "Three Cops," while Kieran Shea's "The Shrewd Variant" is not what you'd call a laugh riot of a detective reporting on his latest case to his client. But it sure has a great mean streak.
Closing out the issue is Jedidiah Ayres' "The White Buffalo," a story of a funeral director in which all your preconceived notions are blown out of the water. I could literally go through the complete list of pieces and lavish praise on the likes of Paul D Brazil, Eric Beetner and Sandra Seamans. But I'll let their words speak for themselves.
NEEDLE has no bloated stories that collapse under their own weight. These pieces feel like barbed wire wrapped around a fist that just won't stop hitting until a face is a bloody mess. In other words, a truly great start. —Bruce Grossman