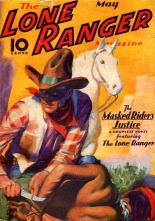 Unearthing buried treasures from pulp literature's yesteryear!
"It's The Man Who Rides Alone Who Meets Danger In The Most Dramatic Fashion … The Lone Rider Carries Excitement Wherever He Goes! Follow The Adventures Of The Lone Ranger In Every Thrilling Issue Of This Magazine."
Well, it wouldn't take you long to read "Every Thrilling Issue of This Magazine," because THE LONE RANGER MAGAZINE lasted only eight issues before morphing into ROMANTIC WESTERN. Because of its short run, it's a tough pulp to track down. Recently, a copy sold for almost $800 on eBay. I wonder how many silver bullets you'd have to melt down to raise that kind of cash?
It's funny how some pop-culture characters can be a big hit in one medium and yet be big flops in another. The Lone Ranger was created by station manager George W. Trendle for a Detroit radio station and debuted on Jan. 30, 1933. The show moved around the dial, always working its way upward and lasting for 2,956 episodes.
Any self-respecting baby boomer can tell you that the character, mostly in the person of B-movie and serial actor Clayton Moore — with Jay Silverheels as "his faithful Indian companion Tonto" — was successful on television from 1949 to 1957. The Masked Man also had a long life in comic books.
But his print career outside of comics has always been spotty. Writer Fran Striker wrote the "complete novels" that ran in the pulps — usually around 25,000 words — and then some hardback books for kids.
THE LONE RANGER MAGAZINE #2 features the story "The Masked Rider's Justice," and it suggests some reasons why the pulp never took off. The tale was written by an uncredited Fran Striker (he didn't even use a pseudonym — no author's name appears at all) and it's drearily predictable, especially when compared to the lead story in issue #1, which was livelier and contained some young female characters for contrast.
"Justice" begins in medias res as the Ranger and Tonto break a young man out of jail. He's been accused of murder and robbery, but they know better. They escort him out of town and hide him in the cave where the Ranger keeps his supplies.
Then the two heroes go back to town to find out who the real killer is. We figure it out the minute the guy is introduced. It's a story with absolutely no surprises — a rarity in the pulps, as they were frequently written so haphazardly that any odd plot twist could spring up.
Striker also seemed determined to keep the characters exactly as they were on the radio. He didn't take advantage of the freedom a pulp presence allowed him for expansion and alteration. Fans of The Shadow know that the radio and pulp versions of that hero and his milieu differed in several ways.
In this story, even Tonto's way of speaking apes what we hear on the radio: "Tonto halted, and without command, Silver stopped beside the white horse of the Indian. 'You get-um down here,' suggested Tonto. 'You stay here.'"
Note: Before Tonto got his famous pinto, Scout, he rode a white horse he named White Feller.
The magazine also contains three short stories — one by popular Western writer Lawrence Keating, but none is memorable — and several supposedly non-fiction departments. There's the second of three installments chronicling the life of John Wesley Hardin, who is portrayed as a serial killer and psychopath, but somehow respected by anyone he doesn't shoot. Maybe it's more relief than respect.
There's an ongoing series in which a cattle trail cook answers readers' questions about the Old West, and another about everyday life on a working cattle ranch, something those radio boys in Detroit knew all about.
I can't recommend this Adventure House reproduction even to those who want to know what the typical pulp Western of 1937 was like, because the typical pulp Western was a lot better than this. But there is an undeniably nostalgic tint to the reading if you remember The Lone Ranger you used to love as a kid.
And, yes, he does call out "Hi-yo, Silver!" when he rides into the sunset, not "Hi-ho, Silver!" But if you didn't know that already, just turn in your Lone Ranger lunchbox and cap pistol at the door. —Doug Bentin