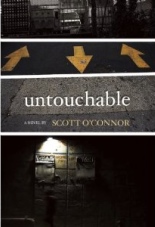 Okay, I have to admit: Sometimes I just don't get it. Whenever I read a book or short story, listen to a song, or watch a movie, I ask myself: What's the point of this? What is the artist trying to say? Are they trying to get me to feel something? Are they showing me a different perspective on something? Are they preaching, or are they entertaining? And sometimes I come away none the wiser. It's rare, but it happens.
UNTOUCHABLE by Scott O'Connor falls into the aforementioned rarity category. After reading it, I have no idea what I'm supposed to take away from the novel, other than a general sense of malaise and melancholy. It's bleak and depressing, much like real life.
Sixth-grader Whitley Darby, also referred to as "The Kid," recently lost his mother; a school teacher, she fell over dead (face first) in class. Whitley is attempting to deal with that, as well as the fact that he is constantly picked on by his classmates. You would think that his peers would cut him a break considering he lost his mom and all, but no, these kids are strictly from the Heartless Bully School of Hard Knocks Academy (that's a made-up school, by the way).
Whitley gets picked on, his best friend and former comic book reading ally has become fanatically religious, and his dad — a crime scene cleanup person — is off in a world of his own. Dad sleeps in his truck every night because he can't bear to sleep in the bed he once shared with his wife. He's also convinced that she didn't just die of natural causes; he has thoughts that she committed suicide.   
You ask, "Can it get any more depressing?" Yes, it can.
Whitley has stopped talking. Since he didn't witness his mother dying, he suspects that she is still alive somewhere. His friend tells him that if he makes a covenant with God, sacrifice something, that maybe God will give him what he wants. And of course, all Whitley wants is for Mom to come home, so he stops talking in order to make this covenant.
              
I wish I could tell you more about this book, but that's about it. Nothing gets resolved, and if there's a message, I didn't pick up on it. Sure, the writing is descriptive and it's easy to see what the characters see. There are some nice touches, like Whitley's obsession with talk shows and his desire to be host one. The fact that he no longer speaks may be a stumbling block for his career path, but a mute Johnny Carson is not out of the realm of possibility. (I would actually prefer a mute Jay Leno, but that's my personal preference.)
I just didn't get whatever the author was trying to convey. If his message is that life can be hard and unforgiving, and that things don't always get resolved, well, I got that.
But the point of this book? I didn't get it. —Slade Grayson