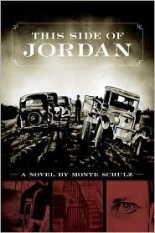 Monte Schulz proves that his father was not the only talented storyteller in the family. For those who don't know, Monte is the son of the late Charles M. Schulz, creator of Peanuts. Now, Monte has carved out his own stake with THIS SIDE OF JORDAN, the first novel of a planned trilogy.
In spring 1929, Alvin Pendergrast is a 19-year-old who just spent the previous year in a hospital due to consumption. Very early on, Alvin realizes he is not fully over the disease and feels as though it's going to come back. Not wanting to return to the hospital or even spend time on the family farm, he teams con man Chester Burke, who has no problems using a knife or guns with deadly consequences.
JORDAN is focused mainly on Alvin, with Chester appearing at key moments that affect the teen. Before Alvin goes on this journey, we find him at a marathon dance where he is a spectator. Schulz shows how brutal those events are in a few quick pages that will make some want to find a copy of THEY SHOOT HORSES, DON'T THEY?, as he pulls back the curtain at these events, totally disillusioning Alvin.
Once on his journey across the country, Alvin finds himself with another new companion: a dwarf named Rascal, who is mainly referred to as just Dwarf. It's this relationship between Alvin and Rascal that is the main focus of the story. Rascal is a bit of a blowhard who tells tales as though they were real, as if to make up for his short stature. That issue is never really discussed throughout, which most might find odd, since this was at a time when little people were considered sideshow attractions.
As the novel progresses, Alvin and Rascal are swept up in Chester's crooked operations, be it stealing from banks or churches, while Chester has no regard for the people he takes money from, and Alvin slowly gets sicker. It all builds up to the final chunk, taking place at a traveling circus, where each character's fate is set.
Even though there are moments of brutal violence in the vein of Cormac McCarthy, JORDAN is more about the young man facing his future with uncertain terms. In this novel — the second prose work published by comics house Fantagraphics — Schulz's writing works in a way that it's like another tale told by the dwarf himself. You'll find yourself enraptured by his style, fittingly written in honor of his father. —Bruce Grossman