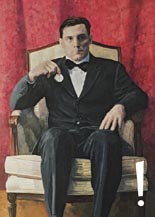 'Tis rare, but sometimes it feels like the only way one can a review a book is simply to share the fact that it exists. THENEWERYORK BOOK III is one of those times.
The 82-page "literary anthology" is like a zine in paperback format. What it's about is practically left open for you to decide, as the contents vary and waver in a way that suggests a stream-of-consciousness approach, except that this is not the product of a single mind and voice. (If it were, it would risk being committed.)
In the early 1990s, when I was bored at an office internship, I cut out some words and photos from newspapers and magazines and arranged them on pages, then Xeroxed them as repurposed art. Pretentious? Absolutely. But it was fun.
THENEWERYORK BOOK III reminds me of that exercise; some of its pages even look purposely mimeographed. If that kind of DIY aesthetic appeals to you as much as renegade poetry, nonsensical prose and oddball drawings, look out for this. For those who read on the commode, its bite-sized pieces will make for the most perplexing bowel movements. —Rod Lott