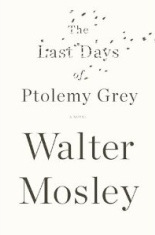 The ever-reliable Walter Mosley takes a break from his Leonid McGill mystery series (THE LONG FALL, KNOWN TO EVIL) and briefly revisits contemporary Los Angeles with his new novel, THE LAST DAYS OF PTOLEMY GREY, an emotionally wrenching but moving and fulfilling standalone.
Ptolemy Grey is 91 years old, and lives alone in an apartment full of junk and debris, and with a mind full of conflicting, fleeing thoughts and confusing memories. His family has all but forgotten him, except for Reggie, his great grandnephew who frequently tries his best to take care him. One day, Reggie stops appearing.
Not long afterward, another grandnephew, all but a distant memory to Ptolemy, shows up to help him cash his retirement checks and buy some groceries. Like many who know him, the young relative takes advantage of the old man's frail health and faulty memory by stealing his money. To make matters worse, Ptolemy soon learns that Reggie is dead, the victim of a drive-by shooting.
At Reggie's wake, Ptolemy meets Robyn, a pretty young girl Ptolemy's niece has taken in. Before long, Robyn visits Ptolemy and, outraged by his living conditions, cleans his apartment and fixes his bathroom so the toilet will flush again. As they spend more time together, Robyn becomes a light that has long been lost in Ptolemy's life, and he begins to feel the kind of love he long gave up for lost.
Then, during a visit to a social service center, Ptolemy is referred to a doctor who is doing experiments with a drug intended to treat dementia and improve memory. It won't prolong Ptolemy's life — in fact, the side effects might mean he won't live to see 92 — but he agrees to the treatments and begins the injections.
 
Following a two-day coma, with his brain flooded with dreams from his past, Ptolemy wakes to feverish clarity and sense of purpose he hasn't felt for decades. Now knowing and understanding the direction of his life, he immediately sets about to insure a legacy that will protect those he loves, and at the same time, right a violent wrong done to his family.
With his usual economy and precision in description of both the past and present, and with dialogue that often seems to sing from the pages, Mosley immerses us into the tangled mind and heartbreaking life of his main character. We see and experience the long life Ptolemy has lived, and the many lessons he has learned on his own, from the women he loved and lost, and especially from his friend and mentor, Coy McCann. It's life full of poverty, pain and then abuse and neglect.
But along the way, it is also a life enhanced by love — which becomes the motivation and salvation in Ptolemy Grey's last days.
 
While not as immediately appealing as his mystery novels, THE LAST DAYS OF PTOLEMY GREY is without question a masterly written and personally felt work that should be read by everyone.
 
And Walter Mosley's name attached to it will certainly promise that it will. —Alan Cranis