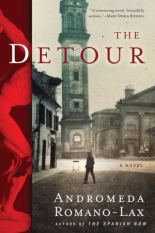 Twenty-six year old Ernst Vogler is an employee of the Third Reich's Sonderprojekte, Hitler's attempt to collect the great art of Europe and bring it to Germany. Vogler is given what appears to be an easy, yet important assignment: Go to Rome and bring The Discus Thrower< the famous Roman marble statue, to the German border, where it will be turned over to the Gestapo. It's expected to take three days. And of course things go awry very quickly. In Rome, Vogler is assigned the services of Enzo and Cosimo, Italian twin brothers who are hired to drive the truck and assist him in the delivery. The siblings, however, seem to have an agenda of their own.
As Vogler struggles to keep the assignment on track and on time, he gradually finds himself becoming more and more enamored of the Italian countryside, the two brothers he is stuck with and forced to rely on, and the adventure he is unwittingly dragged into.
THE DETOUR is author Andromeda Romano-Lax's second novel, and essentially, it's a character study. Therein lies the problem.
Although Vogler has a sympathetic background, his character and plight are not. At times, he comes off as such an insufferable prig, that the reader is hard-pressed to root for him. Through much of the book, he remains little more than a highly starched stuffed shirt, so when the story turns into an unlikely romance, there's little believability.
The novel's saving graces are Romano-Lax's lush descriptions of the 1938 Italian countryside and its people, and the twin brothers who act as the catalyst for Vogler's character development. Enzo is the good-looking ladies' man who is more interested in pursuing an unrequited love, while scarred fighter Cosimo starts off as a one-note character, and gradually reveals a deeper complexity than the protagonist.
THE DETOUR feels like a movie that might have been directed by Frank Capra, only with subtitles. It's beautiful to watch, but I wish the author had picked a better leading man.
Recommended, but with reservations. —Slade Grayson