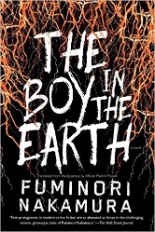 Fuminori Nakamura is one of the most intriguing contemporary novelists out of Japan, but I'm glad his works are short. It would be much too difficult to wrap your head around the darkness his characters inhabit if his works were 500 pages long instead of his more usual 200 pages or less. His austere plot lines are inhabited by intensely well-drawn characters, but the characters themselves are "hollow." Not in the sense that they aren't fully realized, but in the sense that almost every character is damaged, has an aspect of loss to them, a hole that cannot always be filled.
THE BOY IN THE EARTH opens with our protagonist provoking a motorcycle gang, willing them to beat him into a pulp, which they gleefully do.
He has been seeking out these moments more often in his life, wishing not so much for death, but for absorption, disappearance, to be sucked into the earth, to disappear into darkness. He gets little relief from his equally depressed roommate, a woman who hates herself for her dependence on men, who has given up feelings and emotions since the death of her stillborn child. Both characters hate their parents, either not present or neglectful and abusive. Their lives have had few moments of joy.
Translated by Allison Markin Powell, the book follows our protagonist from vignette to vignette, facing and almost, but never quite, succumbing to death. It is only at the end, when he survives against improbable odds once again, that he seems to find the peace and solace he is looking for. This isn't a mystery, it's an intense and unsettling character study, but it's still a Nakamura book, and you should probably start reading his work. —Mark Rose