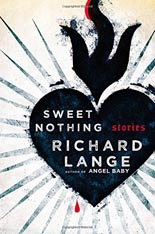 Readers who first experienced Richard Lange through his 2013 novel, ANGEL BABY, may not know that his first published work was the short story collection, DEAD BOYS. SWEET NOTHING is Lange's second collection of short fiction and reaffirms his mastery of the form.
Most of the 10 pieces are set in contemporary Los Angeles and, while not strictly speaking crime stories or mysteries, focus on individuals at a crossroads or transition in their lives due to a serious, sometimes illegal transgression or addiction.
The title story, for example, follows a man fresh out of drug rehab as he slowly pulls his life back together working the late night shift at a 24-hour sandwich shop and living with an obese roommate he found on Craigslist. It ironically wavers between hopelessness and guarded optimism.
In "Instinctive Drowning Response" a young junky recalls his girlfriend who died from an overdose and the times they shared while high or trying to score more dope. They are fractured and mostly painful memories, but all he has left of her.
In "Baby Killer" a Latina immigrant living in a crime-infested downtown neighborhood deals with the daily frustrations of her family and job, while silently carrying the truth about the shooting of a young child she witnessed but is too frightened to reveal. So she savors what few moments of peace her days allow. The main character in "Must Come Down" has a newly pregnant wife and learns some hard truths about his visiting father-in-law, and also about himself, in an oddly touching tale of lost expectations and approaching changes.
The closest Lange gets to traditional crime fiction is "Apocrypha," narrated by an ex-con who works as the security guard for a small downtown jewelry store, and stumbles upon a robbery plot by some of his fellow residents at a rundown hotel. All the while the narrator wonders if his survival is due to his being careful – or to plain dumb luck.
Two stories stand in contrast due to their change of location and period. "The Wolf of Bordeaux" takes place in France in the late 1890s and focuses on a prison guard who watches over a man accused of an unspeakable crime and silently fights the evil he is duty-bound to protect from invading his own soul. An even greater contrast is "After All," a futuristic, post-apocalypse story that while skillfully written unfortunately adds little to this already over-used premise.
The best of these stories demonstrate Lange's impressive talent for character and setting with only a minimum of descriptive words or phrases. They manage to involve us even when the central conflict feels illusive. Several stories seem open-ended at first reading, but they remain in your consciousness and prove difficult to forget or dismiss.
Lange is unquestionably a writer to discover now and stay with, in both the long and short fiction forms. His work is destined to find appeal to both genre fans and mainstream readers alike. —Alan Cranis