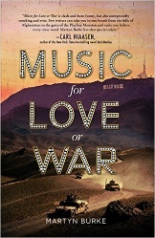 Canadian-born novelist, journalist, screenwriter and director Martyn Burke combines his experiences covering the war in Afghanistan with his mordant observations of Hollywood and American pop culture – viewed from the vantage point of his part-time Southern California home – in his latest novel, MUSIC FOR LOVE OR WAR.
It's a whirlwind story, equally hilarious and heartbreaking, about the various kinds of love and war — and quite unlike any novel you're likely to read.
As the novel opens, Hank and his best friend Danny are on leave from the Army and the war in Afghanistan. They travel to Los Angeles where they seek out the Hollywood psychic who will tell them where to find the women they love. For Danny it's Ariana, who Danny has known and loved since growing up in Toronto and who struggles under the weight of her orthodox religious parents. For Hank it's Annie Boudreau, an L.A. native who, along with her twin sister, has become half of the "Boo Two," favorites of the sensational tabloids and members of Hugh Hefner's residential harem.
Burke then alternates flashback chapters where we witness the early days of Danny and Hank, how they became friends and how Ariana and Annie became so important to their lives. These are mixed with chapters of the two friends in the present day fighting the war in Afghanistan while wondering if they will ever see the women they love again.
The entire story is conveyed through Hank's first-person narrative. Burke prose style keeps Hank's cynicism just under a boil but durable enough to express his sardonic views of the ridiculousness of both the war and the life of the Hollywood elite.
Along the way we are treated to some unforgettable images and scenes in the two major locations as well as in the chapters relaying Danny and Hank's early years. Most memorable is when Danny and Frank, hiding in the Afghan mountains, torment members of al Quaeda and the Taliban by blasting a CD of piano music by Liberace, accompanied by a huge cardboard poster of "Mr. Entertainment" high-kicking in satin hot pants. This comic surrealism is every bit as effective as the GIs playing Wagner as their choppers descend upon the Viet Cong in Francis Ford Coppola's Apocalypse Now, but lingers in your memory far longer.
In the midst of these war scenes we learn that while Danny is as dependable as any soldier, there is an ulterior motive to his being in Afghanistan.
Then, in the final quarter of the novel, Hank becomes entangled with the split-second madness of Hollywood entertainment news while simply trying to reconnect with Annie Boo. These scenes – almost too outrageous to believe yet based in reality – make dodging bullets in the Afghan mountains seem nearly preferable.
Through it all Burke demonstrates how love has the power to endure such obstacles as parental dominance, flimsy Hollywood get-rich-quick schemes, and even the daily threat of death in the midst of war.
The specific events make MUSIC FOR LOVE OR WAR very much a novel of its time, but the themes transcend the time and, along with its several moments of tragic-comedy, remain long after the concluding chapter.
Highly recommended not only for its entertaining inventiveness and emotional involvement with the main characters but also for its noble efforts to put the madness of our contemporary world into some recognizable perspective. —Alan Cranis