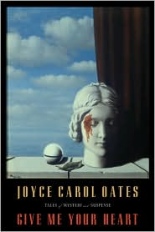 Seeing a review of any book by such a lofty literary figure as Joyce Carol Oates on this site is sure to raise an eyebrow or two, but her readers and followers of various anthologies know that the author is no stranger to genre fiction. (A story of hers is included in the recent James Ellroy and Otto Penzler-edited BEST AMERICAN NOIR OF THE CENTURY, for example.) In fact, GIVE ME YOUR HEART, her latest collection of short stories, is her second gathering of TALES OF MYSTERY AND SUSPENSE, as the subtitle has it, with 2006's THE FEMALE OF THE SPECIES being the first.
In general, what you'll find here are highly literate, expertly crafted stories rich in character detail and psychology. But these features are often at the expense of what is generally regarded as mystery and suspense.
Take "Strip Poker," for example. In this story, an adventurous adolescent girl finds herself surrounded by a group of threatening young boys. She agrees to take part in their game of strip poker to give her more time to figure out how to escape unharmed. But during all of this, Oates goes so deep into the girl's past and fleeting recollections that we almost forget her current conflict.
In "Smother," a woman's recurring dream is suddenly seen as a memory of a murder she witnessed as a small child. This memory will pit her against her already estranged mother, especially when the woman suspects her deceased father as the murderer. Here, too, the author's probing details into her characters are both fascinating and revealing, especially as to the ambiguous nature of the woman herself. But by the time she is finished with all of it, the story itself is left dangling.
 
Far more effective are entries like "Split/Brain," a mesmerizing following of a woman's speeding thoughts as she realizes the life-threatening danger she is in and the alternative ways she might deal with it. Or the title tale, where a dying academic who has publicly declared the donation of his internal organs after death receives a letter from a former lover who makes an impassioned claim for his dead heart.
 
Like those mentioned above, women are the main characters in most of the book's contents, and the loss or love or the obsessive need for love of one kind or another is what motivates their actions.
 
Readers new to Oates will find in these stories a technique similar to the celebrated works of George Pelecanos or Laura Lippman: that is, a crime — either already committed or contemplated — lurking in the shadows of the characters and their stories. Such mystery or suspense as there is concerns not so much who committed the crime as much as why it happened or the lingering consequences among those involved.
Collections like this and its predecessor are not likely to cause retailers to move Oates's previous works from the general fiction section to the mystery shelves, nor is it entirely correct to see her as one of those authors championing the merits of crime fiction to the rest of the literary world. She remains, as always, an extremely gifted, prolific and highly honored writer. If she finds that a finished work is more appropriate for ELLERY QUEEN MYSTERY MAGAZINE than THE KENYON REVIEW, well, so be it!
So mosey on down to the fiction section and treat yourself this collection of stories by a mainstream author who occasionally hangs out in our neighborhood. You'll find her an initiated and welcomed guest — and you'll probably look forward to her next visit. —Alan Cranis