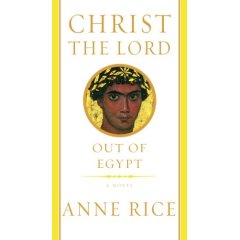 With a long and lucrative career marked by vampire stories and pornographic fairy tales, Anne Rice is hardly the person you'd expect to pen a fictional account of a year of Jesus Christ's childhood. But when you consider Rice's afterword argument of Jesus as "the ultimate supernatural hero," it starts to make sense. Hence, CHRIST THE LORD: OUT OF EGYPT.
As the first-person book begins, Jesus is a 7-year-old boy, unaware that he is the Son of God but curious why he cannot call Joseph his father. Jesus is ostracized by his community because of his strange powers, which include making live sparrows out of clumps of clay, stopping a rainstorm and willing a bully dead, only to resurrect him shortly thereafter. In Egypt while Joseph and other male family members perform carpentry work, Jesus and his family then make the long trek back home to Nazareth.
It is this journey that comprises the book's middle (and is the source of a few slow stretches). Along the way, Jesus is forced to grow up fast as templegoers come under attack by King Herod's soldiers, and sees a man murdered before his eyes. Jesus hears vague rumblings about himself that go unexplained when he presses his parents, uncles and cousins for more information; he is told that someday he will know the truth. That truth, of course, is that Jesus is the Son of God, immaculately conceived in the womb of his mother Mary, who was told of the event by a visiting angel, the news of which didn't go over so well with neighbors and indirectly led to a tragic event. The clues weigh heavily on Jesus until all is revealed.
Because it is told through Jesus' POV, Rice's prose is purposely simplistic. The story, however, is more complex. Though there is no plot per se nor a mystery to the reader, CHRIST THE LORD is a compelling read because our protagonist undergoes not a crisis of faith, but one of identity. It's an interesting question to wonder how Jesus felt becoming Christ, and while it isn't quite enough to merit a 300-page novel, the result is more satisfactory than not.
Based as it is on the gospels of the New Testament, CHRIST THE LORD is unlikely to spark controversy on the level of THE LAST TEMPTATION OF CHRIST or THE DA VINCI CODE. There's no temptation via Mary Magdalane or question of the Virgin Mary's virginity to be found (had Rice gone ahead with plans to make Jesus homosexual, that'd be another story). If anything, readers are more likely to take issue with the pacing, which admittedly lags at the middle after a strong start. But the ultimate message is so moving – and the book's closing line so undeniably powerful – that they should find it resonating with them long after the finish. As it should.