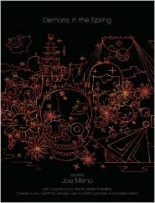 Editor's note: We don't review short stories on their own, but when Akashic Books asked us to participate in a crowdsourced review of Joe Meno's DEMONS IN THE SPRING collection, we couldn't say "no," and were assigned "Animals in the Zoo." Akashic invited 20 literary blogs to review one of 20 stories from the paperback edition; you can see the results here, with exclusive commentary from Meno.
Ever seen the 1965 family comedy ZEBRA IN THE KITCHEN, in which a kid opens all the zoo cages to free their residents, who cause playful havoc? Joe Meno's "Animals in the Zoo" is like that. What about the 1977 horror film DAY OF THE ANIMALS, in which the beasts of the forest terrorize and slaughter unhappy campers? Joe Meno's "Animals in the Zoo" is like that, too.
At once funny and ferocious, amusing and anxious, the five-page story details what happens what a brokenhearted zookeeper throws the cage doors wide open, to unleash the creatures within on an unsuspecting populace. But the animals, accustomed to their bubble-like habitat, stay put for a while, not knowing what to do.
Jump-cut to third-grader Emily Dot, who's harboring problems of her own, having received a less-than-admirable report from school. She'll have to face the consequences from her father, which is what's about to go down as Meno suddenly slams the two story threads together.
Much like the Dots, once the collision occurs, you're not sure whether it's folly or fear, so you feel a little of both. Mind you, this chunky blend of child-like wonder and middle-aged unease is communicated all in five pages — three and a half, if you take away the illustrations — which isn't easy to do.
It's also not easy to make me laugh, but Meno manages that accomplishment, too, when he introduces Mr. Dot: "He is in sales, a project manager. He has been known to manage a project or two in his time, you better believe it."
Lines like that makes "Animals" a standout, you better believe it. —Rod Lott