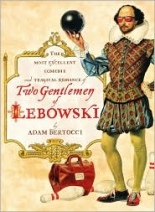 THE BIG LEBOWSKI is one of my go-to movies. No matter how many times I've watched, I'm more than willing to revisit it. So when Adam Bertocci's TWO GENTLEMEN OF LEBOWSKI arrived, I was a little leery. I'm not a fan of the recent spate of mash-up books where they stick vampires, zombies and whatever monster they can think of into classic titles. But this little number has a premise that fans of the film will love: What if William Shakespeare wrote THE BIG LEBOWSKI in his time?
Let that idea sink in your head: the whole movie in Elizabethan English, written as a play that could have been performed at the Globe. Bertocci had his work cut out for him by messing with such a cult film, but not only did he nail it perfectly, but included some literal laugh-out-loud moments.
The whole movie makes the book — even LOGJAMMIN. What's even better is if you know the film forward and backward, you can totally see Jeff Bridges and John Goodman rattling off the dialogue. The part that really made me bust out laughing is a sequence dealing with bowling — er, sorry, that would be a "game of bowls." An excerpt:
The Knave
Hark, now bowls Jack Smoke.
Walter
Thou cross'st the line!
Jack Smoke
Your Pardon, noble sir?
Walter
Thou cross'st the line, Jack smoke, O cavalier,
As Clearly demarcated in the rules,
In Tumbling past the throw. 'Tis the play most foul.
Jack Smoke
But see the pins strike down in fair play's course!
Knave, mark mine eight of nine pins: mark it eight.
Walter
Not eight but l'oeuf, you'll mark it nought, O Knave,
And so we carry on to the next frame
Jack Smoke
Peace, Sir Walter!
Of course, there are name changes since "Dude" was not a term back then, so he becomes "the Knave" — or "Knaverino," if you're not into the whole brevity thing.
TWO GENTLEMEN is not just "change the words to fit into the era." Bertocci has really done his homework, providing detailed annotations while also including engravings and illustrations throughout. Yes, this may be aimed at one finite group of people, but if you're able to quote whole sequences from the Coen Brothers comedy classic, get yourself a White Russian, settle back on your rug and get ready to laugh. —Bruce Grossman