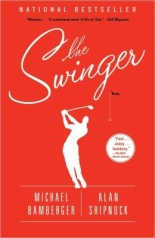 What a strange book. It's not a question of liking or disliking it because it's extremely well-written with strong, believable characters and a fascinating storyline. It's just that it seems so odd to treat the story with a fictional approach. I'm talking about Michael Bamberger and Alan Shipnuck's THE SWINGER, a not-at-all thinly disguised alternative history of the Tiger Woods affair.
The parallels between Woods and the book's main character, Herbert X. "Tree" Tremont, are meant to be obvious. There'll be no reader saying to himself, "Could they be referring to this?" Yes, they are referring to that.
We come to the story through Tremont's personal communications director, an ex-reporter named Josh Dutra, and the story is written from his point of view as we catalog Tremont's golfing success and his much more ambitious success as a sexual addict.
The story of Tremont's sexcapades and a damning account of taking banned performance-enhancing drugs to assist in the recovery of an injury are about to break. Dutra and the team are attempting damage control. At first, they seem to have it under wraps, but as more and more girls come out of the woodwork to tarnish Tremont's name, and as his own wife begins to discover the extent of his infidelity, the story explodes.
The press turns; the PGA is threatening suspension; and the carefully constructed world of Tree Tremont falls apart. Dutra stays with Tremont through the hard times, and through the even harder times of Tremont's rehabilitation as he attends an addiction clinic, and attempts to pay his dues in other ways as he slowly rebuilds his character.
Again, all of this is well-written and filled with golf knowledge (the writers are from SPORTS ILLUSTRATED and cover the PGA Tour), but I don't understand the need for an over-the-top novelization of the Tiger Woods story. Many of the publicity blurbs indicate that THE SWINGER is "devilishly fun" or "funny," but the humor is slight and I find the account of Tremont's affairs more pathetic than raucous.
Maybe the problem is just the sheer presence of the real Tiger Woods. Writing a modern comic golf novel without involving Woods would be impossible, but focusing the entire story on him feels inappropriate somehow, especially while he's still playing. In any event, if you're a golf fan, then you'll enjoy THE SWINGER for its love and respect of the sport. It's no DEAD SOLID PERFECT (Dan Jenkins) or THE BOGEY MAN (George Plimpton), but it's readable and entertaining for its behind-the-scenes look at golfers and golfing events. —Mark Rose