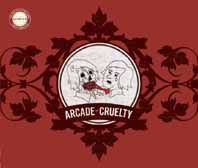 Joseph Larkin is one sick individual. He should be committed or incarcerated — perhaps even strung up in the middle of town. His crime? Making me laugh out loud at things my better judgment tells me not to, in the sure-to-offend THE ARCADE OF CRUELTY, an awfully funny, exquisitely designed collection of un-PC cartoons. Even its copyright page is funny, for God's sake, not to mention its subject classification, listed as "Queer Studies/Occult" over the back cover's UPC code.
This slick trick is structured as a look back at the late Larkin, except he's alive and well, which very well may change once people from his life see the things he's written about them and put in a book for all the world's perusal — starting with one Kristy Lee Caldwell, to whom the work is dedicated, "even though she's kind of a cunt."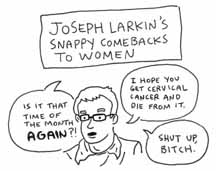 Larkin's work is largely autobiographical, falling into that voyeuristic realm of confessional comics. In simple drawings and self-mocking wit, he produces raw, real strips depicting moments from his checkered past, like "Awkward Yet Adorable Things Said Whilst Fuckin'" and "The Most Romantic Thing a Girl Has Ever Said to Me." (For the record, the latter was "I bled this morning cos of the sex we had last night." Awww …)
But Larkin's life gets even more transparent, when he — pardon the pun — ballsily shares pages from his pubescent "beat-off binders," which were notebook pages filled with images cut out from magazines, catalogs and elsewhere. There are photos of Hanes bra models, classmate cheerleaders, Spice Girls, Courtney Love, Melissa Joan Hart, chicks in X-Men Halloween costumes, Celine Dion, Gloria Estefan and Mary Tyler Moore. The caption for each? "This is deeply troubling." And hilariously brave.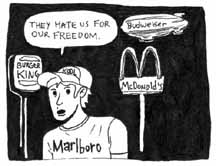 There are vicious parodies of cartoonists Jeffrey Brown, Chris Ware, James Kochalka and Bil Keane, all drawn in their style. A number of post-9/11 pieces fill the back of the book; they aren't in poor taste (well, most of them), but rather serve as wicked satire, depicting people's various reactions to the terrorist attack. More seriously, there are sketchbook pages, abstract monotype prints and a few really good collages (one of which I'd love to have framed on my wall). But before all the drawings and scrawlings, there's the grade school yearbook.
Ah, yes, the yearbook. For the kickoff of CRUELTY, Larkin reprints pages from his 1986-1987 St. Margaret Mary School yearbook, which he and a childhood friend had, um, "revised" with raunchy doodles and R-rated word balloons, misspellings abound. It's completely juvenile … and yet completely funny.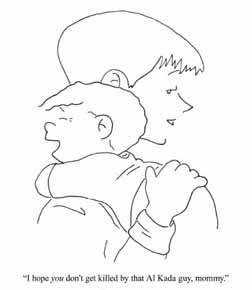 The funniest pages for me — and I hesitate to say this, which I why I'm burying it here toward the end — detailed "The Adventures of Clarence, the World's Most Considerate Rapist." I'm of the belief there is nothing funny about rape … but there is something funny about Clarence, who looks like a pretentious, poetry-spouting grad student who drinks organic coffee. After all, he's so thoughtful that he "plays Sarah McLachlan whilst doing the deed."
Alright, enough of that. Lotsa laughs in this one, no matter how many you try to suppress. Like Clarence says, "If loving a woman without her consent is wrong, then I don't want to be right." —Rod Lott