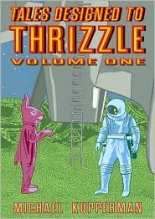 A question regarding the title of Michael Kupperman's TALES DESIGNED TO THRIZZLE: VOLUME ONE: Does "thrizzle" mean "pee your pants a little from laughing so hard"? Because if so, it just about achieved its promise, but I'm a few decades away (hopefully) from incontinence yet.
I've long been a fan of Kupperman's one-of-a-kind cartoons, as seen in the uproarious 2000 collection SNAKE 'N' BACON'S CARTOON CABARET and in the extras-laden paperback reissues of LEMONY SNICKET that I guess HarperCollins has given up on, sadly. This Fantagraphics hardcover rounds up the first four issues of Kupperman's crazed comic book — talking pork products, sex blimps and all.
"Snake 'n' Bacon" slither and sizzle their way throughout, solving mysteries despite performing no actual detective work. Snake just says "SSSSS," while Bacon only promotes his many uses, i.e. "Crumble me in a salad." If you've never been exposed to Kupperman's work before, chances are that you're already scratching your head and saying, "Wait, what?"
Know now that his sense of humor is so absurdist, it's beyond absurd. Non-sequiturs are the name of his twisted game, so don't expect standard setup/punchline gags. Here, the concept is the star, and the less sense it makes, the funnier it is. Consider "The Buzz Aldrin Mysteries," "Sherlock Holmes Versus Jungle Boy" or Albert Einstein and Mark Twain being paired up for a '70s TV cop show.
No subject is sacred: pornographic coloring books, boy bands, barbecue restaurant mascots, senior citizens, incompetent superheroes (Underpants on His Head Man, anyone?), The Monkees, Dick Tracy — not even ham banana rolls.
In keeping with THRIZZLE's comic-skewering concept, lots of fake ads little the pages, for such products as the foreplay robot, Baby Poop 'N' Tell, Indian Spirit Chewing Gum ("haunted with real dead Indian flavor") and the Fabulous Nut Bra ("Hey Barbra! What's Sue got that I haven't got?" "Haven't you noticed? Her breasts are oddly lumpy and smell like nuts!"),
If none of that puts a smile on your face, THRIZZLE's not going to thrill you. For everyone else, Kupperman's collection satisfies all your Fireman Octopus needs. —Rod Lott