Hipsters are as easy to spot as they are to make fun of. The latest work to do just that is STUFF HIPSTERS HATE: A FIELD GUIDE TO THE PASSIONATE OPINIONS OF THE INDIFFERENT by Brenna Ehrlich and Andrea Bartz.
While the title would make one think it's all about hipster dislikes — sleeping on a real bed; working full-time; using capital letters; hygiene and grooming in general; a copious use of "dude," "fuck" and "shit" in everyday conversation — it also pegs that which defines them, from fedora and facial hair to hard-ons for day-drinking and flipping through vinyl records.
It's written like a research paper, complete with case studies, on-the-scene quotes from their subjects, photographs, and charts and graphs. You'll smirk and snicker as you wade through it, but so dead-on it is as satirizing the urban hipster that it starts to become genuinely depressing.
Seriously! This is what today's collegians aspire to be? As if dealing with the entitled generation weren't enough, now we have a group of passive, lazy asses, too?
Ah, well. At least they won't mind sharing their illegally downloaded MP3s.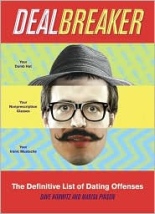 It's not a coincidence that a hipster appears on the cover of DEALBREAKER: THE DEFINITIVE LIST OF DATING OFFENSES by Dave Horwitz and Marisa Pinson, an often-hysterical compendium of turn-offs in the game of love. Their targets get squarely hit in the balls, such as people who bought a Zune, those whose Netflix queue includes THE BUTTERFLY EFFECT, and men whose ears are crammed with a Bluetooth — aka "a douche signal."
Their wit takes no prisoners and pulls no punches. Witness:
• On guys who wear joke T-shirts: "Thanks for taking me to Dave & Buster's, who knew butterfly shrimp and skee ball went together so well?"
• On Hummer drivers: "12 MPG city, 17 MPG highway, 0 chance of you seeing my boobs."
• On pot-smokers who treat 4/20 like a holiday: "No, I didn't know 7-Eleven sells omelet taquitos."
Funny stuff. The only bad thing about DEALBREAKER is that's not Liz Lemon's best-seller as depicted in TV's 30 ROCK. Don't know it? Dealbreaker! —Rod Lott