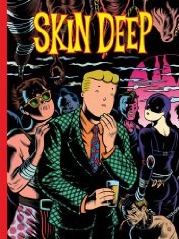 With SKIN DEEP, Fantagraphics has reprinted Charles Burns' weird, wonderful, three-tale anthology first published in book form in 1992. It's no BLACK HOLE — how could it be? — but if you're into him, you're already into this.
It opens with "Dog Days," which was the first Burns story I ever read. At first, it appears to be about two creepy boys spending the night in a fort they've built the backyard, but is actually about something strange they encounter: a guy who acts like a dog, meaning he digs in the dirt, barks and licks bones.
He got that way because he needed a new heart, but couldn't afford a human one. So he opted for the much cheaper canine ticker, and now he pays for it with a severely hampered social life. Seems people don't cotton to men who chase cats and sniff butts.
This segues into "Burn Again," the longest and best story of the bunch. (While all three stories stand alone, the end of one loosely flows into the start of the next.) Here, Burns skewers religious nutjobs with everything he's got, as dope addict Bliss Blister is presented as some sort of miraculous healer, due to the burn on his chest that looks like the face of Jesus. He's not, but money talks, and he builds a temple he calls the gateway to heaven, declares the exact date the world will end, and sells tickets to his new digs.
Finally, "A Marriage Made in Hell" showcases our writer/artist at his most deviously perverse, with a parody of a melodramatic romance confessional containing one heck of a twist. I can't spoil it, but let's just say there's a mighty good reason its newlywed couple isn't destined to live happily ever after.
Needless to say, I love the streak of darkness that permeates Burns' work. I mean that both figuratively and literally, as his one-of-a-kind illustration style is at-a-glance recognizable because of his heavy use of black ink. There are no grays in his panels — either something's black or it's white. That starkness emphasizes the cruel features on the faces of his characters — deep wrinkles, harsh teeth, beady eyes and unflattering noses, to say nothing of the occasional freak.
Like the look of his characters, Burns is one of a kind, and SKIN DEEP is a good introduction to the man's singular vision — a good way to get your toe wet before diving in. —Rod Lott
OTHER BOOKGASM REVIEWS OF THIS AUTHOR:
• BLACK HOLE by Charles Burns