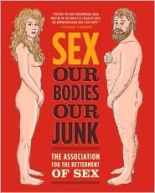 You can never have enough books on sex, as long as they're for laughs. Two new ones currently are swordfighting it out on shelves: In one corner, The Association for the Betterment of Sex's SEX: OUR BODIES, OUR JUNK; in the other, Kristen Schaal and Rich Blomquist's THE SEXY BOOK OF SEXY SEX.
Both put the "F" back in funny, but in entirely different ways. From a standpoint of design and structure, Schaal and Blomquist's book takes a MAD magazine approach, whereas the other takes the SPY magazine approach. And as a one-time reader of both, I've long sold off my MAD stack, but will never part with my complete collection of SPY, so I'm giving OUR JUNK the edge.
An actress known best for FLIGHT OF THE CONCHORDS, Schaal and real-life boyfriend Blomquist, a DAILY SHOW scribe, tackle the history of fornicating … or at least as they see it, which is not at all accurate, of course. There's plenty of fun, funny features, too, such as X-rated toys (i.e. Horny Horny Hippos and Pubik's Cube), complete with snapshots.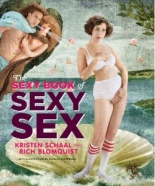 The book is all over the place, image-wise, which keeps things lively, as full-color photos and whatnot attempt to rape your eyes with over-the-top images. There's something at least solidly amusing on each spread (no pun intended), with the exception of the occasional short stories, which I found tiresome. And that's despite all the hot parts being written in red so you don't have to do any work.
Meanwhile, The Association for the Betterment of Sex — aka Scott Jacobson, Todd Levin, Jason Roeder, Mike Sacks and Ted Travelstead — present OUR JUNK as if it were an actual sex manual for the uninitiated, covering basic anatomy (such as the clitoris, which "when angry, spits out a red dye that stings"), the laws of attraction, the rules of foreplay (featuring a handy "semen taste challenge" chart), the act of intercourse, self-pleasuring (you may know it by the slang term as "going on tour with Midnight Oil"), kinks, contraception, sexual dysfunction and, finally, the fear of every conservative Christian Republican: the gays (who here, can learn a new sexual role-playing game called "The Open-Faced Reuben").
With consistent, sharp design that includes orderly tables and minute, quasi-WALL STREET JOURNAL illustrations, OUR JUNK has so many laugh-out-loud lines, that I had difficulty picking just one to present to you as a taste. Out of frustration, I give you one of the chapter-ending "Hey, Didja Know …" facts: "The first marshmallows came from vaginas, and were a by-product of stress?"
Review over. Now I'd like to take this opportunity to see if writing a particular phrase will increase my web traffic: "blumpkin photos." Thanks. —Rod Lott