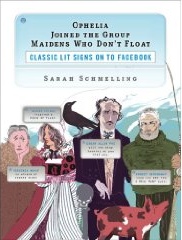 A McSweeney's piece is turned into one big book in Sarah Schmelling's OPHELIA JOINED THE GROUP MAIDENS WHO DON'T FLOAT: CLASSIC LIT SIGNS ON TO FACEBOOK. It's a rather deft parody of the Internet's current social-media powerhouse, as well as works of great literature.
The idea plays upon the anachronistic, "what if?" idea of those now-dead authors joining Facebook. How would their profiles read? What games would they play? What would they say on their status updates? And dear God, what would they "throw" at one another?
The more you're acquainted with the authors and their classic titles, the funnier the chapters. Each is structured exactly like someone's Facebook page would be. For instance, Edgar Allan Poe's relationship status is listed as "Incessant Woe," and he receives a LOLcat that reads "iz in ur wall (wit ur ded wife)."
Franz Kafka's THE METAMORPHOSIS is one of the best, with man-cum-bug protagonist Gregor Samsa receiving an "Involuntary Profile Change" and becoming a fan of Garbage. Ditto for Dr. Frankenstein, Holden Caulfield, Dr. Jekyll and Mr. Hyde.
And, yes, many of them play Scrabulific. —Rod Lott